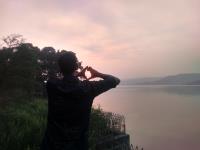 ajinkya sonar
@DreamAjinkya (44)
Nashik, India • Age 24
Joined myLot 11 months ago
I am working as restaurant manager. My main interest is writing and filmmaking. I am here to meet new people and make friends all around the globe.
ajinkya sonar's Followers
Kameca Campbell
@Mommy2APrince (63)
•

Bronx, New York
8 Dec

This user has no bio!
27 following
Rubeena Bashir Kunju
@rubyriaz007 (4292)
•

India
14 Sep 17

I am an house-wife. I am looking out for online jobs. I am enjoying My Lot very much.
1591 following
Swaraj sonar
@Ranglahari (4)
13 Dec

This user has no bio!
6 following
Nandlal
@nanllalshah (56)
12 Dec

This user has no bio!
48 following
samir sarkar
@samirnadia (23)
•

Krishnanagar, India
8 Sep 15

Hi I am samir sarkar, I am student and working partime job. I am trying to earn on online.
935 following