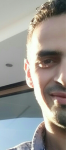 Mryou
@Mryougataga (24)
Casablanca, Morocco • Age 32
Joined myLot 12 days ago
Users Mryou Is Following
Mohit Arora
@mohit459 (3014)
•

Haldwani, India
15 Jan

Sometimes you will never know the value of a moment until it becomes a memory!...
11 following
Rasel
@Diamond55 (120)
21 Nov

This user has no bio!
19 following
JJ
@JolietJake (41613)
7 Jan 16

Caution: please adjust your computer monitor to a 'sarcasm' setting of at least 95% before viewing material written by this user.
7 following