Koalas in Town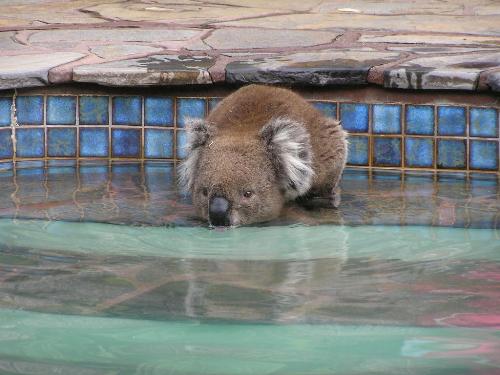 Gold Coast, Australia
April 17, 2007 9:03am CST
I live in Australia, and I love our wildlife. Recently I visited a friend in Benalla, Victoria, where bush fires have been raging, affecting both people and wildlife. I went into town one morning, and saw a koala in a fountain and it looked like it was having a drink, but I didn't think koalas drank water; perhaps I am wrong. On closer inspection, I noticed it's feet were swollen and red, so it had obviously got burnt during the bush fires and was getting some relief! it ran off so I couldn't do anything for it, so I hope it was ok. I just wanted to share this with you all - it was such a special moment.
6 responses

• Australia
17 Apr 07
Yes I love our wildlife as well Abbey I think that we are a very lucky country to have so much wildlife here. Oh no koalas do drink water and especially as it must of been really hot in those dreadful bush fires that Victoria had recently.

• United States
17 Apr 07
Poor thing..I loved the koala's when we visited Australia..they are so cute. I always worry about the animals in fires and the injuries they sustain. I don't think they would let us get close enough to help them , do you? I know there are many animal loving groups that are dedicated to the rescue of such creatures..and I tip my hat to them and the wonderful work they do. Thanks for sharing..it must have been quite a sight!!

• Gold Coast, Australia
18 Apr 07
It's truly heartbreaking to see these animals being driven from their homes and habitats by bushfires, but it's just something that happens in nature. I wouldn't have been able to get close enough to catch this koala (they can be very aggressive anyway), but the Animal Rescue and such places do a marvelous job, and I take my hat off to them too.

• United States
2 May 07
That is sad. The koala is such a beautiful animal and to be pushed from it's home due to brush fire is very sad indeed. But I guess living in that area you get used to as much as a person can this sort of thing happening. Thanks for sharing this moment with us.

• Gold Coast, Australia
2 May 07
Yes, it is very sad and when it happens I always cry for the animals. Of course, we get bush fires all the time in Australia, but I don't think I will ever get used to the devastation is causes to both humans and our unique wildlife.

• United Kingdom
25 May 07
Awwwwwwwwww the poor little thing I do hope it was ok I am glad that we do not get this in the UK but then again it is totally different and we don't have a lot of wild Life actually I can't remember the last time I saw a Deer to be honest with you I know it has been many years ago

• Gold Coast, Australia
26 May 07
As far as I know, the koala made it's way back into the bush after having the drink! I suppose they are used to losing their habitat. I am from the UK originally gabs, up north in Lancashire although I was born in Scotland! There is still plenty of wildlife up there!

• Canada
25 May 07
Hi Abby I am so jealous I love to see the pictures of Koalas, they look so sweet but I understand they are quite aggressive. and not the cute little cuddly things they appear to be. I am so pleased to hear this as they would be easy prey for every one if they weren't aggressive, I know that bear cubs look like sweet little stuffed toys, and they are playful, but look out for mama bear, she will just as soon kill you as look at you. people keep putting human emotions on animals and that is just wrong. And yes it is a shame that forest fire and in your case bush fires do such terrible damage, but that is mother nature looking after what needs to be done, we do not understand it and our interference has caused a lot of the problems in the animal kingdom, so I just look and never touch.

• Gold Coast, Australia
26 May 07
Yes, koalas look nice and cuddly, but they can be very aggressive, and they make a loud grunting kind of sound when they are angry, or mating. They can give you a nasty slash with their claws. Even so, they are still a beautiful creatures, and it would be a shame if they became extinct. You are right, humans interfere too much in the animal kingdom.

• Australia
21 Feb 09
Hello My name is awn and I am from North East Victoria wildlife rescue, we are based in Benalla Victoria. IF at any time anyone sees something they think it not normal or need assistance with wildlife please call us on 0437118281. Yes Koalas do drink water.