Ever been caught being the "tooth fairy", lol...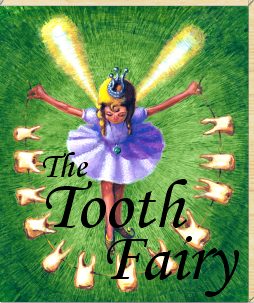 United States
April 17, 2007 4:49pm CST
This is a subject I've really been wondering about now that my oldest daughter is 8 and starting to ask questions. So I'd like a little feedback on what you do in this situation, lol. I've always told my children about the tooth fairy, I have 3, and they all believe in "her". So my oldest is the first to lose several teeth over the years and has always gotten her money from the "tooth fairy every time". Just last year she started asking questions because the older she got I started putting her tooth in a sandwhich bag so that way it could be easier to pull it out from under her pillow so I won't wake her up and get caught, lol. She asked me about that and I told her we should help the tooth fairy out by putting it in their so she wouldn't have to look everywhere under the pillow for it and have to wake her up. So she's believed it all this time. So now she just lost another tooth the other day and told me that one of her friends at school said that the tooth fairy wasn't real and that mommies and daddies just do that to make children believe that. So I just told her well she probably just said that because she doesn't believe in her and if you don't believe in her she probably won't get any money. She looked a little confused but still put her tooth under her pillow and found her dollar under the pillow and was so excited about it and said I'm gonna go tell my friend she is real! So I feel a little bad now that she's getting older and everyone's telling her it's not real. Do you still tell your kids about the tooth fairy, santa, all those things we were told as children? At what age did they finally realize they're not real? I guess, I think about myself and I was also about that age when I realized it all wasn't true. My other children are 4 and 5 and they are always saying they can't wait untill they lose their teeth and get money from the tooth fairy. So if I tell my oldest the truth, the young one's will be a little dissapointed I'm sure, lol. Do you have any stories, or advice? Thanks!
5 responses

•
19 Apr 07
My 5 year old has her first wobbly tooth and keeps saying that if she puts it under her pilow she will get some money from the tooth fairy. I have always said that I would never lie to her about these sort of things and only tell her that santa exists as my family insisted I should. I keep telling her that the tooth fairy is just a story and that I can't afford to give her money for her tooth but she just laughs and says she doesn't believe me so I don't know what to do when she looses her tooth.

• United States
19 Apr 07
Lol. Well that's a first I've heard that. Why would you worry so much about lying to her about the tooth fairy but you are telling her santa is real? That's cute though she still is believing in the tooth fairy after you told her she's not real. I don't think it would hurt at all to change your mind and maybe stick a dollar or even 50 cents under her pillow for her first tooth. I always tell my daughter, (since she has asked me why the tooth fairy always give her different amounts of money), I tell her I think the tooth fairy gives her less for a small tooth, the bigger the tooth, the more money. So maybe you can change your mind and the next day act surprised and tell her that maybe now you believe she is real. You say you don't want to lie to her but when you think about it, you will have to tell her eventually as she gets older that santa wasn't real either, or she will finally figure it out on her own, so the same can go for the toothfairy. It's a memory your child will never forget and I'm sure she'll thank you one day and will love to keep it going for her kids one day. Thanks for responding and hope you change your mind:)

• Australia
18 Apr 07
I think that it is wonderful for our children to believe in the tooth fairy and other things that we had when we were very young. I have 5 children and they all believed in the tooth fairy when they were young. Oh no I think that it would of been best to tell her the truth and tell her not to tell your other children so they can still have the fairy visit them and for your eldest daughter not to spoil it for them. It is best for you to talk to your eldest child and explain everything and tell her not to tell the other and that she can help you be the fairy god mother.

• United States
19 Apr 07
I agree. That is a very good idea, have her help me be the tooth fairy, huh, I've never thought of that! I will remember that for sure when the time comes. Thanks!

• United States
17 Apr 07
I think you should keep up the charade .When she gets to be about ten or eleven she'll stop believing but in the meantime won't ruin the idea for the rest of your kids and will be mature enough to understand about keeping the secret as well . I think keeping Santa a secret is most important of all . Don't you agree that that anticipation round Christmas is half the enjoyment ?

• United States
19 Apr 07
Oh yes, I totally agree about the santa thing. I think she's finally almost there to knowing santa's not real, because we always have someone in our family dress up as santa so she tries to get excited like he is real so the little one's will not find out. But I think she still wonders because we've told her santa has alot of helpers that do dress like him sometimes because he is so busy going from house to house to drop off the presents. Thankyou for your advice, I'm sure she will keep the secret going for the little ones since she does such a good job about santa. Thanks!

• United States
19 Jun 07
My daughter actually just lost her tooth yesterday. It's my first time playing tooth fairy and I think it's fun! LOL! We broke the tradition though and didn't leave money, we left a necklace and a note from the "tooth fairy" and called it a night. LOL! Although, when I was younger, we always had money under the pillow. I was always excited about it. I always wondered what she did with all those teeth. I think my parents told me she turned our teeth into the money. LOL! I was about 11 when I found a bag of all my baby teeth in my mom's little jewelery box. Along with my sisters. EEWWWW. I laughed about it though. I had a feeling years before, but I never knew they kept the teeth! But I can understand now, because I couldn't throw my daughters tooth out, so I kept it. LOL!

• United States
25 Apr 07
Well, what a story. I think that is a little bit too much to go through to just keep that from them. I would just go ahead and tell them and give them the money when they loose a tooth or something. I don't know how I would handle it when my daughter grows up, I'll just tell her the truth and save myself all the trouble.