My 76 year old Mom has a bad sinus infection....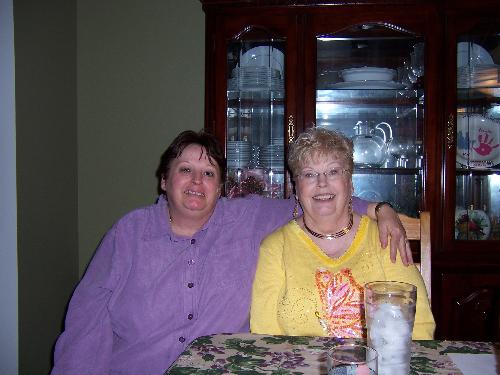 United States
April 18, 2007 4:07pm CST
and she called me up Tuesday to see if I could come out to her house with some chicken noodle soup. Of course, I said I will be there shortly. Poor Mom. She has a nasty infection and is coughing so bad she sounds like a seal. She is real weak, because she hasn't been eating enough to keep her strength up. Plus, she says everything tastes yucky. I can imagine. Plus, she had a growth removed from her foot last week that needs to be seen by the Doctor this Thursday. I will be taking her to her appointment as she is too dizzy to drive. Before I left for home she was almost in tears, thanking me for coming out, cleaning up her house a bit and bringing her soup. She said she was sorry she bothered me. I assured her it was never a bother to come see her, no matter what the reason. Mom buried her second husband in October of 2005. She has never lived alone, until now, her entire life. I know she is lonely, sometimes depressed. While she does do things to keep her busy I know it doesn't fill the loneliness she has when she is in her house alone. She has a few great friends that are also her neighbors. They live in a retirement community and try to keep busy. When she is ill the depression reaches it's peak. My home is 30 miles from her house. I have a sister and 2 brothers that live within 10 minues of her. I know they have their own lives, but am I asking too much for at least one of them to check in on her everyday or every other day? I mean, they don't even call her but once or twice a month. I think they are being selfish. Mom has always been there for all of us. There is no reason to neglect her in her time of need. I try to go out to see her at least once a week, sometimes twice. I guess I am asking you if it is normal for a woman's adult children to neglect her this way? I think it's the only right thing, that we do take care of our elderly parents, since they, at least mine, always took great care of us when we were children.
1 response

• United States
20 Apr 07
Oh my Goodness your mom looks grrrrrrrreat! I think you are a very loving daughter and I bet if you lived closer you would be there to check on her every single day! I can't believe that your siblings live so close to her and don't go see her! I think that being that the 2 of them live so close that the should somehow fit it into their schedule and at least take turns visiting and checking up on your mom. They are being very very selfish. I wish I lived close to her I am the type of person who would help my friends out like that. I love people and love to help.

• United States
20 Apr 07
I am really glad I moved back here from New York. I know I would be having anxiety attacks worrying about her being so lonely. Thanks, I think she looks great, too. You should see her nails!! She gets them done every other week, with such cool designs on them.