shooting on campus by cho and then he express some bitterness why?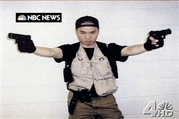 India
4 responses


• India
20 Apr 07
why do they become sick in schools, and the shooting in school is not something new in USA


• India
20 Apr 07
Ok then are there many sick like these in US schools,

• United States
21 Apr 07
Asians aren't generally treated badly but I read somewhere that Cho was teased as a child and throughout high school because he didn't speak english very well when he first came to the United States. If you add that to the chemicals he was exposed to when he worked with his parents at the dry cleaners and the anti-depressants he was issued a month before that can be your recipe for disaster.

• India
23 Apr 07
I think that is too small a reason, there may be something big behind his head, or a human can not do us cruel deed.

• United States
24 Apr 07
I don't think we can really find what exactly was behind his reasoning but he basically just said in his videos he was out to punish the wealthy.

• India
24 Apr 07
that is where i fail to understand his motive. and hence i asked this question, I think there is something else behind the bush...

• United States
29 Apr 07
Not that I know off. I don't think they are treated badly at all. I think he just had some problems and didn't know how to deal with it somehow, so he did the unthinkable.