are you contented with who you got for a sibling?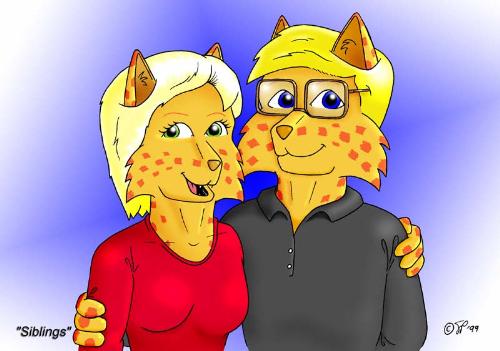 Philippines
4 responses

• Canada
19 Apr 07
I have one sister, 3 years my junior, and she is a beautiful, amazing person. She is someone that I can rely on and trust with absolutely anything. We have already lost both of our parents (dad passed away at the age of 53 and mom at 63) so we are really the only family each other has - outside of our husbands and kids, I mean. My sister always jokes that, if one of us moves, the other is going to have to move too because she never wants to live somewhere that I don't. We live in the same town now, are about a 5-10 minute drive from each other and we talk on the phone or email pretty frequently. We definitely live our own lives, we don't interfere in each other's business but we are always in each other's hearts. We like it that way :) I know for sure that, if I could have picked my sister, I would have still picked her.

• United States
19 Apr 07
I am absolutely contented with my sister! She is awesome! Through the years she has listened to lots of sob stories from me. And she just keeps listening. We don't get to see each other often enough. We live an hour apart. But when we do--watch out it's an all day time of fun, laughter, and bonding. We do have lengthy phone calls often.

• Philippines
30 Apr 07
As if we have a choice on who to be our sister/brother ei? Hehhehehe.. But of course I'm contented with the family I got. I love em all!! And I wouldn't exchange them for anyone else...My sister and my brother are the best one. We have our moments, we had our misunderstandings and stuff. But our love for each other always stands above all our petty quarrels

• Philippines
19 Apr 07
I am firstborn in the family and have a sister who's a year younger plus a brother born nine years later. I love them both so much. Of course our childhood days were not missing the squabbles that kids often have but now that all three of us are married and each have our own families, I found that we became much closer as we all matured into responsible adults. These days, I always look forward when our families get together during special ocassions. My sister and I, particularly when we became moms, have lots to talk about so we usually spend hours on the phone. I sorely miss them both when months go by that we don't see each other. Good thing there is that mobile texting technology that is very useful to keep us updated on each other's lives.