phobias

Canada
April 19, 2007 8:39pm CST
Hi everyone I got this fun idea today to start a discussion on peoples phobias. Do you have a phobia? What is it? How do you deal with it? I have a fear of heights, I can easily get up I just fear coming back down. I normally won't go higher than the second or third step on a ladder. I will get dizzy and nauseous and start to shake, my husband says it's all in my head but he has no problem with heights so he just doesn't get it. So now I have revealed my phobia what's yours?
2 responses

• United States
25 May 07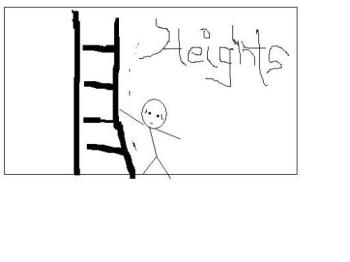 I don't like heights..I cannot go up higher then a few steps on the ladder and I am grabbing for the wall or whatever.. I will not go somewere that requires I look down to far..Heights are definitely my phobia:)+

• Canada
25 May 07
Ya I hear ya I hate heights well sort of anyway, I have no problem getting up it is coming back down that bothers me. Everyone says it isn't the fall that will kill ya it's the landing! LOL Precisesly!!! Anyway, I get shaky etc.. when I go higher than a couple of steps on a ladder but if I go fast enough I will make it to the top but then look out. I keep my feet on the ground most times! LOL

• United States
24 May 07
Oh no you have opened up a can of worms in my head! lol. I have three phobias and all three of them send me up the wall. I have a fear of spiders and will move every stick of furniture in the house if I see one run under the furniture. I hunt them down and squash them good! Spiders make my skin crawl. I also fear inclosed spaces. I will kick and scream when I get in a position like that. It totally freaks me out. I also am scared of high places. My husband thinks I am plain silly but than he has no fears so how could he relate. I won't even go to the top of the Arch in St. Louis, Missouri. When we went to Texas there was a place that had a tower type building and you could walk around the outside once you got to the top. It was as high or higher than the arch. Anyway my son and my husband payed to go up and even walked around the outside. They asked me if I was going up and I replyed that they were nuts. My feet was staying planted on the ground! If a person has no phobias at all they can not possibly understand we that do. Great discussion.