Who do we report to, when police officers themselves break rules?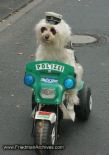 Taiwan
April 20, 2007 12:53am CST
I have seen this so many times at country I'm living in now. I see police officers driving the wrong way with their scooters. I see them parking on streets with red lines eating lunch. What's up with that? How are we suppose to support them if they are breaking laws themselve?
3 responses

• Australia
20 Apr 07
I think it is really hard to complain if the police break the laws like driving at the wrong way because theyr have the privilege to do it if they are on duty, may be next time you can ask how they can park in the restriced areas just for thier lunch and see how they react,lol.

• Taiwan
20 Apr 07
Originally, if police officers are in their police cruiser and are driving, they should have the siren lights on. But, they didn't. It goes same for police on their scooters. I know they have privileges but it doesn't mean they can abuse them.

• Palatka, Florida
20 Apr 07
Have you tryed calling there numbers in to the police. There is such a thing as a citizens arrest. I don't know all of the codes and laws though. My best friend was in the police accedamy and her sister did finish the police accedemy she is just waiting on a job opening.

• Taiwan
20 Apr 07
Best of luck to her. I don't think there is a citizen's arrest here. But, the only way to freak them out is to report it to the media. Apparently, news reporters have more influence than the police. How sad.

• Canada
20 Apr 07
well we are supposed to report them to the police. In canada there is an ethics committee and action committees when the police do something that they are not supposed to do.

• Taiwan
20 Apr 07
They don't have that here. and I doubt they will process the report if we call in. The system is quite corrupted here. Thanks for response.