Happy dancing... Thank you myLot

Australia
7 responses

• Australia
21 Apr 07
Wow you must have put in a fiar bit of good work. My highest earning so far was only $1.31 or something like that. Its good that the fact that Mylot actually works is reiterated, always good to hear :) Once again well done on your achievement and i hope you reach the minimum payout soon :) Nice picture attachment as well :P

• Australia
21 Apr 07
I hope that too. Thank you friend.

• Philippines
21 Apr 07
Wow! Good for you! I have been a member of mylot since March. I only have $1.58. I only open mylot during my spare time. I can't wait to reach my aim. How lucky you are. Good luck too.

• Australia
21 Apr 07
Go earning friend, i doing this all the time. Thank you

• United States
21 Apr 07
That's great to hear that you've reached your goal. Mylot is really a lot of work, or Mylot does work if that's what you're trying to say. I earned 1.03$ from yesterday and I don't think I could be happier. What's funny to me is that I only made 31 posts and 5 new discussions only. I made good quality responses and that's what got me my earnings. It's also the highest I have earned since I started working here at Mylot. Keep up the good work!


• United States
21 Apr 07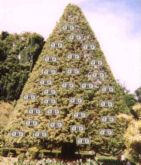 way to go!!! i know i was really happy when i reached my payout. i have been here for 6 weeks but only been doing mylot for about a month now i am up to 27.82 and i am hoping by the time it processes my check i will be up to even more. i ave around 1.50 a day sometimes 2.00 i get excited when i come in and see it. i mean i love doing this so it isnt about the money but that sure does make it more fun. lol i would come here though even if i didnt get paid

• Australia
21 Apr 07
wow, that's great. How you do that? I wish i can have my money too. thank you


• Australia
22 Apr 07
good luck to you too... I wish i can ear $2 a day too