Everyone see and define beauty differently...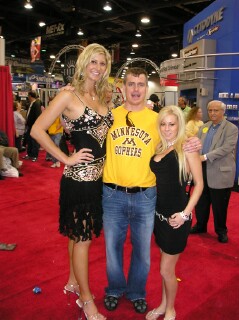 Poland
April 21, 2007 5:04pm CST
Im 162cm and i wish to be taller because i sometimes feel short to some people. though I don't think being tall is necessarily better, because it has its disadvantage, but i still want to be tall. My mom say i am crazy,but tell me do you like your height?Do you wish to be more taller or shorter?
10 responses

• Australia
21 Apr 07
Beauty is in the eye of the beholder,what is pretty to you may not be beautiful for me.If you are talking about outlook,I think 162 cm is not too short,it is average,I think a tall woman may even have more problems because she needs to find a taller guy to match with which may be more difficult.

• India
21 Apr 07
I wish i was taller by 5cm. All my brothers and cousins are taller than me, i am the shorter of them all, but i am elder to them. Most of the people like my height cause i am 178cm tall.

•
22 Apr 07
I am a 155 mitre midget lol and always wanted to be taller but once I started doing tai ji my Shi Fu, teacher said what a good advantage I had for being only 5 feet one inches lol as I can ground better hehe. So ai am learning to look at my weakneses now as stregths lol..We all have got something other's have not and vice versa, but we have to concentrate on our strenghs, by the way my Sister had a Polish boyfriend once lo, she loved him very much too..

• Australia
22 Apr 07
I would like to be taller, although my height, or lack of it, was more of an issue when I was younger. I'm fairly stocky, so I guess I'm happy that I'm not short and skinny. I was never going to get any taller, so I ended up marrying a short girl as well. At least when I'm not out in public, I feel as tall as anyone else.

• Philippines
26 Apr 07
Hi again, I'm only 5' and wish I am taller. I'm quite on the heavy side so I need to be taller. Besides I won't need to wear high heels if I am taller, flats are more comfy but those don't look good for me. Well, we can't do anything but accept what God has given us and be thankful at least all our body parts functions normally.


• India
26 Apr 07
Don't know if you agree with me or not I think Beauty is a sense that always grow. The moment you feel you look beautiful from any angle, whether height, dress, figure anything may be, the other moment you think if I be a little more in height, little more yanky in my dress.....like these I will be more beautiful. It's a general feeling of human to be beautiful and try to more beautify every time. Beauty is always optimistic. But the most beautiful is that person, who is maintaining his/her natural beauty, nothing added to create as beautiful. Nature has taught us to be beautiful and natural beauty can't be overtaken by our so called optimistic ever growing need of beauty.
• United States
26 Apr 07
Height does not make beauty, proportion and symmetry does. And you are absolutely gorgous ! coming to NY anytime soon?

• Spain
23 Apr 07
I am 162cm, which is too little for a guy. I have had problems with that sometimes, however, I think it has not much importance, if I try to show other things from my person that can be great. About you, I think you are too good looking to care about this, you should be happy with your height or whatever.

• China
22 Apr 07
I think 162cm is not too short, it is average.