Do you think making sandwiches are the easiest and fastest food?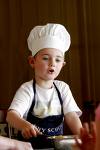 Gibraltar
4 responses



• United States
21 Apr 07
Yes! I'd like to thank the Earl of Sandwich for "inventing" the easiest food to prepare that's tasty, too. They taste better than frozen TV dinners and less troublesome than canned food. I like pancakes and eggs but would love them if somebody else would make them for me. Another favorite of mine, microwave popcorn. Although, it's not as well-balanced as a sandwich can be.

• United States
21 Apr 07
Sandwiches,hot dogs,eggs,mac n cheese,and eggs are all very fast quick fix meals. I try to keep these things on hand for those nights when we are in a hurry. Throw some fruit and a veggieon the plate with them and you have a complete meal.