I'm looking to join some really good referrals, do you have any?

New Zealand
6 responses

• United States
22 Apr 07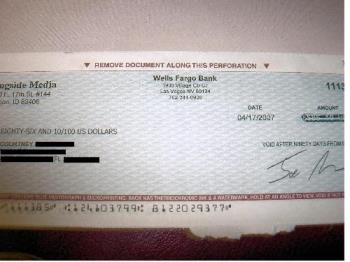 You should definitely try out cashcate. I just recieved my check in the mail today. http://www.cashcrate.com/index.php?ref=198747 Here is a picture of it.

• New Zealand
22 Apr 07
I've heard alot of buzz about cashcrate, must be somethign in it I'll definately check it out, thanks for taking the time to respond, it's through other people's experiences that we learn most.

• New Zealand
22 Apr 07
and thanks for providing proof of payment.

• United States
22 Apr 07
I joined these two sites one I am a gold member which I converted my earnings to pay for the upgraid. I have maid 19.79 and 17.30 in little over a month. I take a survery a day, read emails and do web searches. Now I am upgraded so the earning are slowly building up. Here are the web sites. "http://www.inboxdollars.com/?r=teapotmom" This is the one I have made 19.16 pluse I upgraded which cost me 25 dollars. http://wwwsendearnings.com/?r=teapotmom Good luck. I make almost 2 dollars a day per site.

• New Zealand
22 Apr 07
Sounds, interesting for sure. There are alot of these types of sites around as we can see from the pervious responses, trying to weed through the bad ones is an almost impossible task, so thank you to all for sharing.

• United States
22 Apr 07
I'll give you a link to my website that has all the programs I use that work. I just made this website the other day so keep in mind it's my rough draft and I haven't had the chance to add in proof of payments yet. But if you have any questions about any of them feel free to let me know. http://www.freewebs.com/cynddvs/

• New Zealand
22 Apr 07
Website is coming along really well, you ahve a lot of information there, I'll ce looking at them soon, thanks for the response.

• Canada
22 Apr 07
I have looked for a long time to find some that I trust will pay. I have seen people's records that have been paid 3 times already because these guys will pay at $5.00. Also, they have a very good referral program.. You make exactly what your referral earns..so, 100% unlike the 10 that mylot gives you.. This is a really good one to be in on.. free to join.... http://adbux.org/?r=ytriguy

• New Zealand
22 Apr 07
I'm checking out adbux now, thanks for the response.

• New Zealand
22 Apr 07
thanks I have signed up to one of them to find out more about them and see how it works. Thanks for the response.