Dehydration - does gatorade really work?

Australia
April 21, 2007 10:55pm CST
a month ago i got food poisoning and got severely dehydrated. i kept drinking water but most of it just came out the other end. Then i read about some rehydration methods which are based on the theory that sugar can help your body absorb more water. and i also read that salt helps as well. but this is confusing because friends of mine told me that salt and sugar actually cause the body to me more dehydrated - that is why we can't drink salt water from the sea. I look on the gatorade covers and they say that it contains about 13g of glucose and also a small amount of salt as well plus electrolytes. gatorade is considered a rehydration drink but when i drink it i still feel like i have to drink water. so, does gatorate really work?
5 responses

• United States
7 Feb 08
Salt compounds are an ingredient in sweat...here is an interesting article about how Gatorade sort of works and whether or not it is basically flavored sweat.

• United States
7 Feb 08
forgot the link : http://www.associatedcontent.com/article/577959/is_drinking_gatorade_the_same_as_drinking.html

• Australia
22 Apr 07
It works to a point. Dehydration is a bit more complex than just replacing potassium, though, as far as the electrolytes are concerned. Other important minerals must be replaced, notably calcium and magnesium. Water replenishment isn't that simple, either. The body uses water for a lot of things, and when dehydrated it gets fussy about what it's used for. Water is used to digest proteins, remove toxins, and operate organs, as well as hydration. So the economics of water in the body are pretty rough when you're dehydrated. "Essentials only" is the principle, and that's what happens. One good way of getting extra water is to eat fresh vegetables, which contain pure water. Fresh fruit contains a lot of water, too. It takes some off the strain on your existing supplies of water. Vegetables also include the missing electrolytes, and help tidy up the gut and digestive processes, which can really take a pounding if deprived of water. Under the circumstances, if you feel like you want water, drink it. You might consider some salt, too, to help balance the body's water, but not too much at a time. Salt acts to prevent further water loss, but you have to have enough water for it to work properly. People take salt tablets to salinate their body's water, to minimize loss of water in deserts and hot climates. Don't overdo fats or proteins, stick to plain food until you're feeling better, and don't over exert yourself, because that uses water and can send you straight backwards.

• Norway
21 May 07
You should drink water if your afraid of dehydration because thats the purest neture can offer.

• United States
22 Apr 07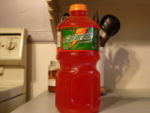 Hi there glra2222, hope you are better now. Well, I am no expert but my doctor said not to drink Gatorade. He said that it is a sports drink made for people who sweat excessively during strenous exercise. I used to let my granddaughter drink Gatorade and her pediatrician told me not to give it to her. She said it has too much salt. She also said that the best thing to do is drink water, lots of water...take care...

• United States
22 Apr 07
I know when I have had a bad flu or my kids have a virus or flu bad enough that I haev to take them to the doctor, the doc always says to make sure they drink lots of gatorade. So, I would assume it works because of the electrolytes and all in it.