These are a few of my favorite things.....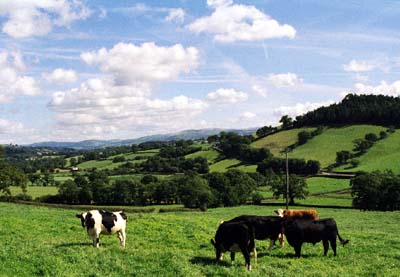 United States
April 22, 2007 10:52pm CST
......raindrops on roses and soft fluffy kittens ......girls in white dresses with blue satin sashes, snowflakes that stay on my eyes and eyelashes..... These words keep playing through my head as my 5 year old keeps singing them (she is on a Sound of Music kick right now) I got to thinking what are a few of MY favorite things, things that seem to take the cares away and remind me of God's greatness. We were on a long drive yesterday - up and down the rolling hills, pasture land and wooded land nicely interspersed. Cows lollying, acres and acres of horses grazing.... farms and barns - long native grasses bowing in the breeze. and I got to thinking how I never grow tired of this lush beauty. One of the most picturesque things to me is a rolling hill and valley scene that lays out like nature's quilt from the farmer's variety of grain fields....clover in this patch, rye in that. then a bright red barn with white trim and a silo or two. Even the smell of manure relieves my mind of stresses. What are a few of your favorite things?
10 responses

• United States
23 Apr 07
I love driving through the country roads and seeing all the crops springing up, the corn fields and soy beans. I love the smell after the rain or fresh cut grass. I like lying on my bed with a gentle breeze coming in through the window. I like watching the wind in the trees and grass. Or looking out the window across a field and seeing nothing but wildflowers everywhere. That is beautiful to me.

• Ireland
23 Apr 07
I love natural sounds, like running water and crashing waves. I love howling wind and the special, unique sound it makes when it is blowing through a genuine slate roof. I like the sound of my dog padding across the kitchen tiles. I love a cat's contented purr. I love sunny days and sand crunching between my bare toes and under my feet. I love the fisrt butterflies and bees in the garden which tells me summer is coming. I love the earliest daffodils and tulips coming into bloom, and the rhubbarb shoots pushing through the soil. I love the smell of baking bread and chocolate chip cookies that are almost done. Turns out, I seem to like an awful lot of things. Thanks for the discussion!

• United States
23 Apr 07
thanks for the answer! that is so very poetic. We were lucky a few years ago to be in the right place at the right time and were in the pathway of monarch butterflies during their migration. It was incredible, thousands and thousands of butterflies, it was like a sea of them.

• United States
23 Apr 07
I saw that migration as well. I was living out in a rented farmhouse and we went outside and you couldn't see 1/2 mile down the road. I don't know if I'll ever witness that again, but it was beautiful. My first year in Northern Illinois to be exact. 2002 I will never forget it.


• United States
25 Apr 07
I must say that this discussion was a great one to open and read this morning as the sun comes up and I am sipping my first cup of coffee! Thanks so much for such a great start to my day (which is going to be a long, arduous one). I love to smell fresh cut grass in the summer, the air after a light rain, and a blooming lilac bush! I love to hear the sounds at the oceanside when it is early morning and no people have arrived. I also love to hear the sound of snowflakes falling in the woods. My favorite things to see are a kitten sleeping, a baby when it is first trying to immitate its parents talking and the sun filtering through the stained glass windows of a church. My favorite things to touch are a baby's soft skin and cashmere!

• Ireland
30 Apr 07
I like cashmere, too! By the air after a light rain, do you mean that damp pavement smell? I like that too, on a humid summer day. What about that electric feel in the air right before a lightening storm? I love that!

• United States
23 Apr 07
You have a wonderful command of the english language and should consider writing books! Some of my favorite things are: The peace and quite that happens between 5am and 6am before I get the twins up. I can sit and savor a hot cup of coffee and listen to the "nothingness", The smile on my children's faces when I have gotten them a little surprize for no special reason at all. THe soft fur of my dog buzzy as he nuzzles his nose under my chin when I am sleeping. The taste of rich, dripping with chocolate fudge, ice cream on a hot summer day. Oh...there are so many things to be thankful for!!!!

• United States
24 Apr 07
I love cool rainy days. A clean house. I love Sundays going to church and having Sunday dinner with family and friends. I love Disney it's the happiest place on earth. I love my husband and my boys. I love kitty cats. I love pretty tropical fish. I love the smell of a new house, or a new car. I love spendign time with my friends, mom and sister giggling about nothing at all. I love crafts. I love stamping. I love flowers. I love working in my yard. I love watching my son make a goal or saving a goal when he's keeper. I love shopping. I love the LORD!!!!OK I better stop now huh? Love over load!

• United States
24 Apr 07
Life is great each day is a gift why not enjoy it!

• United States
23 Apr 07
It is so funny I ran across this discussion! Last night, during the night, I kept singing "...I must have done something good...'cause here I am standing here loving you...whether or not I should..." and I can't even remember all of the words! LOL I love the smell of rain. I like to smell fresh lilac bushes. I like driving with a breeze coming in the window on a nice day. I like clouds in the sky. The sound of a baby laughing. Snuggling under an afghan on a cold day with a good book.


• Singapore
23 Apr 07
I LOVE that song. LOL. Well, I love sunsets, rain in summertime, stargazing at our backyard in the province, holding hands while walking with my boyfriend, watching the city lights at night, walking in a tree lined street, playing with my nephews/nieces, there's just so many I might take up the whole page. LOL.

• India
24 Apr 07
Reading good books in solitude.....,feeling the calm and still waters....touching the serenity amongst the bounties of nature...kidding with my kids...organising my work and my table....enjoying my work... a gettogether and outing with my family and freinds...

• Philippines
24 Apr 07
My favorite things are 1. Cool breeze and clear water of beaches 2. Butterflies 3. Any kinds of flower on summertime 4. Morning sun, 5. Sunset on the beach 6. Rainbows 7. Trees and grasses of serene place A lots lot more i could go on enumerating but this space wont be enough

• Philippines
24 Apr 07
The colors of butterflies and flowers.. the sweet scent of the ocean... the rainbow after the rain.. dawn. the sunrise and the sunset. the first bloom of the flower during spring. the twitter of a bird. the sound of the wind blowing and trees swaying.. the mountains... the forest... the sound of a river flowing and the falls... a lot of things. :)