Fun Saturday With Grandsons etc

United States
April 22, 2007 11:41pm CST
I just wanted to share this photo in a discussion with all here tonight. I took my daUghter and grandsosn to the local races Saturday. The photo is of Tyler & Hunter in the T-Shirts of Rolling Thunder Monster Truck they both "had" to have. It was well worth the money to see the huge grins on these boys all night long. They slept like rocks once we got home also. So a fun time was had by all. But mostly it really relieved a lot of stress worry and prressure off me due to dads recent hospitalization. I've got a hundred or more photos of the races and will be posting threm somewhere here in the near future also. Thanks again friends and members. HAPPY POSTINGS FROM GRANDPA BOB!!~
6 responses

• Australia
23 Apr 07
What good looking grandsons? Do they look like you Bob? How old are they? You obviousl;y njoy spending time with yoyr Granchildren, as my parents do with their three. What kind of races are you talking about?

• United States
23 Apr 07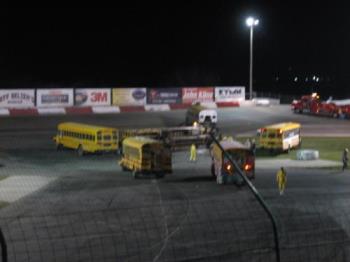 they are 6 & 8 Tyler the oldest looks like me a lot. He's also inherited my humorous personality. The races Saturday night were called Eve Of Destruction. Figure 8 races, trailer races, spectator drags, monster trucks & the grandkinds favorite, School Bus races. Heres a pic of the busses. . Just races where crashes are expected. It's the same racetrack we go to for NASCAR races here. Late models etc every saturday evening. Thanks and have a great day/evening. Look at the picture attatched. Its one of the school busses after it flipped onto it's side. It's in the very center of the picture. HAPPY POSTINGS FROM GRANDPA BOB!!~

• United States
24 Apr 07
He lies the boys are lucky enough that they look like there mom hehehe.


• Etowah, Tennessee
24 Apr 07
Boy Tyler is sure a happy camper! He looks like he will explode from the excitement! And for Minnie too:I know when my son went he came back saying' " Mom, it was so loud, It made me want to pee my pants!" He was only 7 or8 and although he loved the night, he has not asked to go back and he is almost 23!LOL

• United States
27 Apr 07
Tyler is the oldest grandson. he will stay up to watch the whole race show. Once Hunter falls asleep he is gone. Too funny. Not even the noise from The Monster Trucks woke Hunter. Thanks for a response also. HAPPY POSTINGS FROM GRANDPA BOB !!~

• United States
24 Apr 07
Well anytime we can be of help with your stress we are more than willing lol. The boys and I had a great time also. The boys want to know when they get to go again. Okay just Tyler was wondering Hunter is still a bit unsure of the races.

• United States
26 Apr 07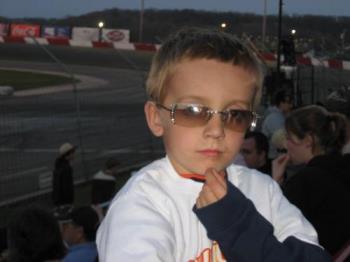 Anytime I have the extra cash. Hahahahaha! Here's that cute picture of Hunter with the shades on. All too cute I think. HAPPY POSTINGS FROM GRANDPA BOB !!~

• United States
23 Apr 07
How cute are they! They look like they are having a blast! I haven't been to the races since I lived in Kansas. I miss watching the races in person but I don't miss they yucky humidity and heat of sitting at the race. I guess it wouldn't be so bad this early in the year though.

• Greece
23 Apr 07
Nothing better when you fell stress or pressure than you spend time with your children or grandchildren.They make you escape and forget even for while the worries...right grandpa.Anyway God bless them as I add at the comment at your photo they are very sweet boys.

• United States
13 May 07
Glad that you had fun. I take my niece to the races every Saturday just about. She loves it! We've been taking her since she was 3 weeks old. She can sleep through anything including being on the front roll with all the load race cars. Races are alot of fun & great stress reliever.