pizza,pizza,pizza, how many different variety have u tried yet?

India
6 responses

• India
24 Apr 07
I m a vegetarian i have eaten quite some varities of veg, pizzas here in India. i make them at home too because everyone loves it at my place. i like it with sauce, cheese, herbs like, basil, oregano, and garlic. i love the taste of veggies like green or yellow or red bell pepper,eggplant,onion,broccoli,olives, asparagus, tomatoes. Pepperoni is one of my fav. one n i like it the most, can eat daily same flavour.

• United States
24 Apr 07
i love sausage on my pizza and pepperoni thin crust, i also get a pizza with pineapples sometimes, and i have tryed the spinache pizza and loved it as well... as for frozen i like the mexican taco pizza's.. and i like the pizaa's we use to get in school the square one's

•
23 Apr 07
I have only ever tried two kinds of pizza which are pepperoni and chese and tomato. I did not like pepperoni but i love cheese and tomato pizza so thats my favourite and i would love to eat it everyday but it would cost a bit of money if i ordered it everyday.

• Philippines
23 Apr 07
cant remember how many of them, but my most favorite is bacon and burger pizza.

• United States
27 Apr 07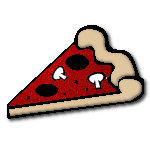 In our house we are pizza lovers. We have had peirogi,cheeseburger,macaroni and cheese.meat lovers,buffalo chicken,steak and cheese, cheese lovers, three cheese with tuna as a topping,white pizza with anchovies,,and several other kinds. My favorite is a Vinnie Pie with pepperoni and mushrooms.

• United States
24 Apr 07
I enjoy pizza, although I could not tell you how many different types I have eaten. I know that there have been a lot. I like almost anything that has a thick crust and lots of cheese. Although there are some other toppings that I do not care for, I never make anyone order a pizza especially for me. I will either eat it or pick it off if I really do not like it. The only things I really cannot stand on my pizza are olives, mushrooms and sausage. I can usually pick all three off easily so it usually is not a problem.