Do you have any holiday traditions?

United States
4 responses

• United States
20 Oct 06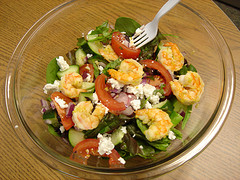 Thanksgiving we go to MIL's house and Christmas we go to my mother's house usually. I'm assuming that is what we will do again this year.

• United States
20 Oct 06
In my family my mom always gives us an ornament every year. I started a thing for Thanksgiving last year, I made a little book and asked everyone to write what they are thankful for in it and I will pull it out and we will do it again this year. And each year we can look back and see what we wrote.

• United States
20 Oct 06
On christmas Eve my children and I bake a cake and Christmas morning we sing Happy Birthday to Jesus. The reason we do this is because a few years ago my oldest daughter asked me if she could bake Jesus a birthday cake for his birthday. She was only about 4 at the time, and wanted to know why she got one and he didn't. It is something that we all do together and have fun remembering what the day is all about. I dont know of anyone else doing this, but we enjoy it.