Jude Law's Character in The Holiday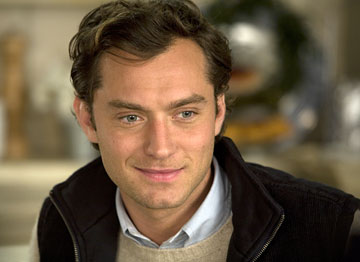 United States
April 23, 2007 3:07pm CST
Jude Law's character in this movie is like, the ideal guy for me! He is cute, has an accent, and he has two adorable little girls. And he is a really good dad! I want to find a guy that already has kids, and is a good dad. I love Jude Laws character in the Holiday, and I'm jealous of Cameron Diaz.
8 responses

• United States
27 Apr 07
I thought Jack Black's character was infinitely sexier, but people tell me I have weird taste.

• United States
27 Apr 07
ok...i didnt think jack blacks character was sexier than jude laws...BUT! I will say that The Holiday is the only movie that made me find Jack Black attractive (although I kind of liked him in King Kong, but not as much as The Holiday)

• Philippines
24 Apr 07
Such type of guy would indeed be perfect for me having 2 kids of my own. But such type of guy is soooo rare and such an endangered specie that one is real lucky finding like him in real life. Such type of guy would also be taken right away by some hopeful women which make them doubly rare.

• United States
24 Apr 07
yeah it sucks that guys like him are hard to come by. But I guess if all the guys were like that it would be less special

• Philippines
23 Apr 07
i really liked the character there too! but i don't want my guy to have kids already, but i guess, that's alright. but i want him to be a good dad, of course. the thing i was really touched about him was his ability to cry. most guys don't or can't cry...

• United States
23 Apr 07
yeah I really liked that he could cry too! I think that made him even cuter! I laugh everytime Diaz runs back and finds him crying, it's endearing! lol. Thanks for the comment, you got a + rating!

• India
29 Apr 12
The Holiday was an excellent film to watch, Jude Laws and Cameron Diaz were good but Kate Winslet and Jack Black performace were also good in the film which made it good to watch ...

• United States
6 Aug 07
I was not a big fan of this movie, I have seen better. I did like jude's character in it.


• United States
28 May 07
Add me to the list of women melting if they were Cameron! lol! I think Jude is extremely sexy! That was such a wonderful movie! I loved it.