Why on Earth would a person defend Dogs that attacked my son?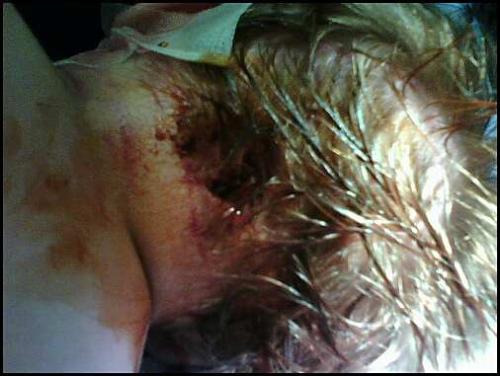 United States
April 23, 2007 3:29pm CST
Please see my other discussion on My son being attacked by 7 Dogs! One person defended these dogs and said I should leave them alone! My question is what would you do if your son was Attacked by dogs and almost killed. These dogs have a very vicious past and have attacked other peoples Animals and have actually broken through the fence to get at people? What would you do? Would you just LET THEM BE? Please read other discussion first and be honest.... also see all pictures involved. Thanks Chrissy
9 responses

• United States
23 Apr 07
I think those dogs should be pt down or at least contained in the pound, the owners of dogs should get also get punished for not supervising their dogs and allowing such a thing to happen.

• United States
23 Apr 07
I would be pulling out the old 22 and giving these dogs owners meat for some dog stew. Do you have an ASPCA in your area? if so contact them immediatly, if not contact the police and or sherriff offices asap and get those dogs taken care of. As for the owners of the dogs, I would sue them for any and all medical bills, and any lost wages that you may have incurred.


• Canada
24 Apr 07
I have no idea why people would defend those dogs. I'm an animal lover too, but, I will not stand for vicious animals, and I wouldn't have one in my house. Anybody who would put an animals rights before a humans needs their heads read.

• Canada
25 Apr 07
Why? Humans kill but they have rights? Most animals will not attack unless they are mistreated by their owners or are provoked... what happened to the little boy is a travesty but why would they not put them down? there has to be more to the story

• Canada
25 Apr 07
The little boy was playing on his side of the fence, and the dogs attacked him. Sometimes dogs attack completely unprovoked, and when that happens, they should be put down.

• Canada
25 Apr 07
I think blackkat is asking the same thing I am.. it seems a little suspicious that animal control would not either, a) put the animal's down, or b) take them away from the original owner and place them elsewhere. Anywhere else in the world if a pack of dogs attacked a child, they'd be put down. Makes me wonder if there's not more to the story that we're obviously not privy to.



• United States
23 Apr 07
me id be shooting me some dogs!

• United States
4 Jun 07

• United States
8 May 07
Oh, Chrissy, My heart is with you and your family. As an animal rights activist I say, "Put those damned dogs down!" I cannot understand why you are having such difficulty. Where is the Human Society when it comes to the rights of your son? Again, as an animal rights activist, it seems we may be pushing a bit too far for the rights of animals. ~Donna

• Canada
24 Apr 07
That is an awful thing to have happen and it looks like your little boy is in a lot of pain, but the thing I wonder is why they won't be putting the dogs down? Obviously the person that owns them has done no socialization with them if they're running as a pack like feral dogs, but is there something missing in the story? Here in Canada, if one dog attacks, it's put to sleep, much less a pack of 7.

• United States
24 Apr 07
I feel something should be done people shouldn't just stand by until something wrose happens it's not right what are they waiting for someone to die in order to do something