Momma cat spanks her kitten

United States
April 24, 2007 10:30am CST
We are down to one kitten left and it now is getting overly playful with the momma cat. Last night the kitten jumped on the mom and she trapped it down with one paw and the back paw started whacking the kitten's backside. We laughed thinking it was just one of those chance things. A few minutes later the same thing happened. Now everytime the kitten gets out of hand the momma cat holds it down with her front paws and whacks her backside with her hind legs. It is just too funny to watch. The kitten must know because it gets up and sulks away for a while. Of course we all know kittens that doesn't last long before she pounces mom again. Have you ever heard of such a thing?
9 responses


• United States
24 Apr 07
LOL! That really IS funny! My momma kitty swatted hers, but didn't spank. That's really cute!

• Philippines
24 Apr 07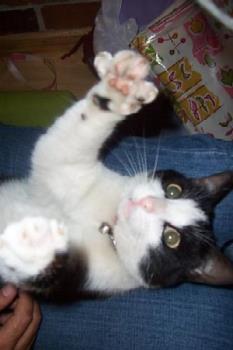 It's fun really to see such things and to see cats playing especially with kittens. Momma cat wants to discipline her kitten perhaps so even animals know what's good and what's bad.

• Canada
24 Apr 07
Heehee, that's so cute and hilarious at the same time! I've never seen anything like that, when our old cat had kittens she'd just sort of swipe at them with a front paw when they got out of line. Kittens have short memories for that sort of thing though, it's just in their nature to be playful! Stalking and pouncing are part of their natural hunting instincts.

• United States
25 Apr 07
While this looks cute and funny it is nature's way of getting the young to leave the "nest". Momma cat is trying to get junior to grow up and "leave home". Animals know by instinct when it is time for their young to be on their own. Watch out... female cats also drive their young away when it is time to mate again.

• United States
25 Apr 07
She is getting fixed here in a couple of weeks just to be on the safe side. I don't want anymore kittens. This one was a real experience for me having tiny kittens all over the place and since it only took her getting outside once I am not taking any chances!!!

• United States
24 Apr 07
That really is funny. I had a male cat who whacked his son in the head. It was histerical. The father sat there in front of his youngster for a few moments, as if he was thinking about it, then whacked junior in the head.

• United States
24 Apr 07
I've heard of it and seen it done by both cats and dogs. Our oldest cat, not the mother, holds the kitten down and has a talk with her when she gets a little out of hand. My mother dog lets her pups know when they are getting out of hand. She'll growl or push them away and the poor little pups will go and sulk. I think all babies, kittens or puppies, get scolded by their moms or even another adult in the area more than we see. It's the adults way of teaching them and while it looks cute and funny to us it def. has a reason behind it. I wish people could learn that easy..lol.


• Australia
25 Apr 07
that is so funny... i never see that before but i can imagine how cute it looks when momma cat tries to discipline her kittens... so even animals know what is good and what is bad and expect good behaviour from the kitten... let alone human beings... we have to be smarter and more well-behaved than them, aren't we???

•
25 Apr 07
Yes. My cat used to do this with her kittens. It might be worth taking the kitten away from mum for short times so she can get some rest! It's just mum reminding it who's boss! lol