Mother and Child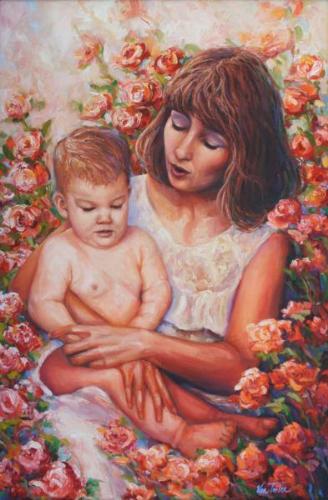 India
8 responses


• India
24 Apr 07
thank you. i just came across while i was browsing internet for some good wall papers.

• United States
24 Apr 07
That is a really beautiful painting I have never seen that one before. It shows so much in that picture! Maybe someone here will know who painted it

• India
26 Apr 07
Really a wonderfull picture i never seen before and i love to download it can you tell me where did you get this frm,i loved the way how cutethe mother hold her baby isnt it a warm and lovable relation they have to eachother though they dnt say by their mouth.

• India
26 Apr 07
yea. God made that relation like that and you cant describe in words.

• United States
24 Apr 07
I definitely love this painting, it really shows the caring and unconditional relationship between a mother and her child. Where did you find it?

• India
24 Apr 07
i dont remember. pls check out my other discussions for such paintings.

• India
7 Jun 07
Very cute picture my friend. Thanks for sharing it with us. In that picture the innocence of the child, the loving look of the mother and the back ground, everything is admirable.

•
7 Jun 07
My notifies say I haven't replied yet I recall a similar discussion. You really enjoy paintings huh? That's all cool thing the picture I'll have to see after I've posted but if it's anything like your currant avatar I'm sure it's great. ~Joey P.s Who's the painter of the avatar?

• Greece
24 Apr 07
Me again ,watching your art photos lol: Are you sure not same painter with the other painter?The faces remind me same way of paint with the other.. Anyway is very warm the way she hold her child,very nice.

• India
25 Apr 07
as far as i remember, they are different. i am gonna post another pic today

• Philippines
11 Jun 07
This painting is beautiful. Truly there is nothing more beutiful than to see the portrait of a mother with the child she love. There were already many paintings with this theme and I should agree that this one is very impressive.