Healthy school snacks?

Canada
April 25, 2007 3:02am CST
My grandson has been stayingat my house for a few days now, and i have to make him healthy school snacks every day without using peanut butter or any nuts. I didn't realize just how hard that is. On Monday he had carrots, sliced cucumbers and a banana, Today he had raisins, carrots and cheese and crackers, all of which came home because he was supplied snacks by the school today, tomorrow, I'm down to a boiled egg and yet more carrots, And I'm definitely going to have to go shopping for fruit and youghurt. Does anybody have any suggestions for good nutritious snacks?
9 responses

• United States
25 Apr 07
Sounds like you are on the right track with the snacks. They are healthy. Yogurt is good for him and try to get some fruit he likes. You are lucky though my little 5 year old sister is very picky and we can't ge ther to eat nothing but junk food like chips and nutty bars and so on I wish she would eat baby carrots. She likes yogurt though. Maybe he would like some healthy granola bars they are good and nutritious, or even breakfast bars they are good as snacks.They also have those little fruit cups I buy them sometimes and the applesauce cups. Sounds as though you have been doing a good job of it though.Well good luck.. hope you can find something he will like.

• Philippines
26 Apr 07
i suggest try to make different sandwich for him mam.. chicken sandwich, ham and cheese sandwich, tuna sandwich with milk or chocolate drink these sandwiches are good for his health..

• United States
26 Apr 07
One of my fave things to make for a snack is to cut fruit up into little squares (pineapple, banana, apples, pears, etc. and put a pretzel stick through it and its like a little cute snack.. If you want to keep them from getting brown just dip into orange juice before doing it. I also love making fruit shakes... a little light yogurt, fat free or skim milk, and bananas, strawberries and a tiny bit of ice YUM! Cut up celery, zucchini, cucumbers, carrot sticks and dip into salsa or fat free or low fat honey mustard or ranch or whatever sauce you like... Sandwhich cut outs.. use cookie cutters (hearts, animals etc.. Cut the slices of meat, cheese and bread.. put together and neat little sandwhiches that kids love

• Canada
25 Apr 07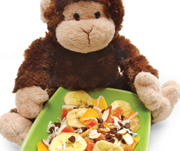 SOCCER BALL SUBS These zesty Swedish meatballs--call them soccer balls for fun-- take more prep time than typical lunches, but they're sure to score at lunchtime. Send the meatballs in a preheated thermos. If your child prefers his meatballs without bread, remember to pack a few toothpicks for spearing them. Ingredients 1/2 cup onions, finely minced 1 tbsp. butter 1 lb. ground beef 1/2 lb. ground pork 1/2 cup quick oats 1 cup water or milk 2 egg yolks 1 1/2 tsp. salt 1/2 tsp. pepper 1 tsp. lemon rind, freshly grated (optional) 3 tbsp. butter for frying 1 1/2 tbsp. all-purpose flour 2 cups of beef stock Directions In a small pan, sauté the onions in the 1 tablespoon of butter over medium-low heat until translucent (about 5 to 8 minutes). In the bowl of an electric mixer, combine the sautéed onions, beef, pork, oats, water or milk, egg yolks, salt, pepper and lemon rind. Mix on medium speed for 10 minutes. Chill the mixture for 2 hours or overnight. With moistened hands, form the meat mixture into walnut-size balls (about 1 1/2 inches in diameter). Note: They will be sticky. In a large skillet, melt 3 tablespoons butter over medium heat. Turn the meatballs so they will brown on all sides as they cook all the way through (about 12 to 15 minutes). Remove the meatballs from the pan, covering to keep warm, and set aside. Drain excess butter from the skillet, reserving one tablespoonful. (If the butter in the skillet is gone, add another tablespoon.) Cook butter and flour briefly, whisking in all of the browned bits from the pan. Add the beef stock and whisk until the sauce has thickened. Pour the sauce over the meatballs. Makes 50 meatballs. Monkey Mix MONKEY MIX RECIPE INGREDIENTS: 1 1/4 cups dried bananas 1 cup each dried papaya and dried mango 1/4 cup cheerio's 1/4 cup coconut 1/4 cup mini chocolate chips (a tasty substitute for bugs!)

• United States
25 Apr 07
dried fruit is a great snack for kids. or an orange cut into segments. Maybe some celery/bell pepper/ blanched snap peas and some ranch to dip it in? I always see the smallest containers at the grocery store, in the housewares aisle, and think that they are too small to put anything in but a single serving of dip. apple sauce cups are great as well because they last for forever.

• United States
25 Apr 07
what is wrong with a sandwich made on whole wheat bread?

• United States
25 Apr 07
Here are some ideas: Roll up meat or jelly or cream cheese (or any combination of the 3) in a tortilla. You can even then slice up the tortilla for "pinwheels." Cheese, yogurt, and fruit always work, like you said. Cereal - you'll have to be careful about nuts, but you can find some without. He can then eat it with milk, in yogurt, or just plain/dry. Celery with cream cheese inside. Cream cheese wrapped up in salami Best of luck to you!

• United States
25 Apr 07
Here are just a couple of things that I feed my children for snacks after school. Tasty Trail Mix Combine equal amounts of raisins, dried dates, unsalted pretzels and your child's favorite reduced-sugar cereal (whole-grain cereal, for example regular Cheerios, regular corn flakes, Rice Krispies, Special K or Chex brand cereal). Applesauce Serve applesauce with a sprinkle of cinnamon and nutmeg and two teaspoons of dried fruit. Slushies In a blender, combine half 100 percent fruit juice and half water with unthawed, unsweetened frozen fruit. Pour into fun cups. Rice Cake Stackers Rice cakes stacked with bananas make great afternoon snacks. I hope that you are able to use some of these.

• United States
25 Apr 07
What about jello jigglers. You can make them with the sugar free jello. Gogurt is another favorite of the kids. I think that you have pretty much covered everything else...good luck