when you shut off your ALARM CLOCK, do you tend to FALL BACK ASLEEP?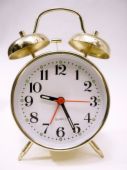 Philippines
9 responses

• Gibraltar
25 Apr 07
Yes, I hate getting up early in the morning. In order to make sure I will not fall into sleep again, I put the clock at least 2 metres far that i am unable to fetch it while I am lying in bed. Once the clock alarms, I have to get up to switch off the alarm. In this way, I already get up physically. :-))


• Egypt
30 Apr 07
It can happen sometimes that I fall back to sleep after stopping the alarm, but it's only when I'm too tired or if I didn't get much sleep, usually I can drag myself out of bed and don't fall asleep again :) But there are some other times that I don't even hear the alarm at all loud as it is and I just continue sleeping :)) of course this only happen a few times every now and then when I had very short while to sleep.

• India
26 Apr 07
No i dont go to sleep after swithcing off the alarm as i have to prepare food for my school going children and then get them ready to go to school. On sundays there is no alarm at all. Yes if i put up alarm earlier to work on mylot then there is a possibility that i might go back to sleep if i dont feel like getting up.

• Philippines
25 Apr 07
What I do before is I set the alarm like 5-10 minutes earlier, because I can't get up right away. But one time after my alarm went off I just ignored it knowing I have minutes aloted to sleep some more, I ended up waking up an hour later!!! I was late for work because of that. So I don't do that now. So when my alarm goes off, I tell myself I give myself 5 min more and check the time every now and then to make sure I don't exceed that 5 minutes.

• United States
25 Apr 07
I used to, but now my husband sleeps on the side next to the table. So I think it is better because he will make me get up when it is time.


• United States
25 Apr 07
Yes I do this all the time! Not times where it's ringing because I have to go to work, because then I realize that it's very important that I get up. But a lot of times in the morning before school I will shut it off, and then end up waking up with just barely enough time to get ready for school. I wish I didn't do that because it causes a lot of stress in the mornings!