When did your baby walk?

United States
April 25, 2007 12:19pm CST
At what age did your baby walk for the first time? My son is 12 months and he is not walking yet. He's cruising around furniture, but doesn't stand alone yet. I'm not in any hurry, I just wonder what is the average age. And did you work with them at all to help them try and walk on their own? If so what types of exercises or games did you use?
5 responses

• United States
25 Apr 07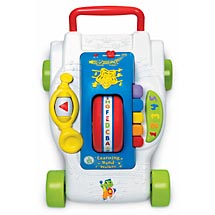 My son walked at nine months and one week. I don't think that is average, he was never that interested in crawling, so he just kinda skipped that. My nephew didn't walk until he was 15 months old. I did buy something similar to this when he started to cruise the furniture http://www.walmart.com/catalog/product.do?product_id=2697213 He got brave after awhile and would only push it with one hand, then a few weeks after that he let go and walked on his own.

• United States
25 Apr 07
we have one of those push toys for our son. He likes it and will usually only push it with both of his hands on the toy. thanks for the advice.

• United States
26 Apr 07
My oldest daughter started crawling at 6 months and then didn't start walking until 12 months. My youngest daughter started crawling about 7 months - was really bad at crawling - and started walking at 10 months. I think my youngest started earlier only because she was so bad at crawling that she needed to start walking if she wanted to get anywhere. Did I do anything to help them? No, not really. Obviously when they started standing we got all excited and I'm sure the postive reinforcement helped. We also are a fairly active family, so maybe they wanted to be like us once they started to understand that they could walk. If your sone is cruising, he's going to be walking soon enough.

•
25 Apr 07
My first daughter walked at 10 months and my second at 13 months. I didn't walk till I was 18 months. I don't think that there is really an average age for babies to walk, and that they just do it when they are ready. I did try to encourage my children to do it. I would hold them under their arms at arms length away and put a toy they liked on my head. Then let go. They had to do a step on their own to reach the toy. This worked with my older daughter, but only when she could stand alone. My younger one hated the game and would only walk if I started by holding both her hands and then let go, rather than holding her under her arms.

• Canada
25 Apr 07
My daughter walked a week before ten months. I know many people who's kids didn't walk until just a year or over a year. It doesn't mean anything, they move at there own pace. i wouldn't worry about it. He'll do it when he gets the courage. This is a really good site www.babycenter.com Just search walking and they will give you lots of info.

• United States
25 Apr 07
My son was developmentally delayed (physically). He didn't crawl until close to 12 months and he walked at 14 months. It seems like it all came at once. He did scoot on his butt for quite a while though. It was funny to watch. He pulled himself with his feet. The only thing we did to encourage him to walk was trying to get him to walk to someone or something he was interested in.