HAve you lived in NJ?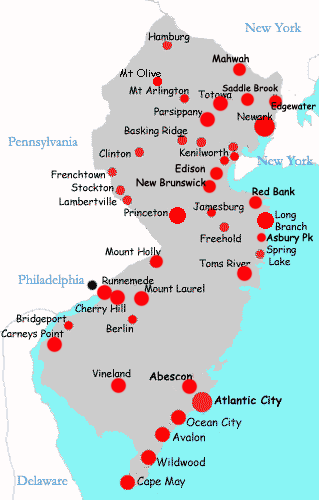 United States
April 25, 2007 5:32pm CST
Tell me about how it is to live in NJ:
8 responses

• United States
10 May 07
I lived in Jersey all my life. It really depends on where you are but Jersey can get you into trouble. LOL.

• United States
30 May 07
THAT IS SOOOOOOOOO TTTRRRUE LOL I could've said it better

• United States
26 Apr 07
I spent most of the first 23 years of life in north Jersey. I was fairly bored in the suburbs and things were too expensive when I moved back after college to work. I wanted to get out. But now that I've been out for almost 4 years, I miss it more than anything--even if I have very few friends left there. It's always my home and someday I'll move back.

• United States
30 May 07
I lived in NJ for 30 something yrs and I've moved out of NJ about a year ago to NC. To me it was the best move I could've ever did. But it also depends on the area(what part of NJ)you live or lived in. I was born and raised in Essex County the Oranges.

• United States
25 Apr 07
I'm currently living in NJ. It's the only state I've ever lived in so I don't have another place to compare it to. I will say that it's expensive to live here, especially in North Jersey. Property taxes are high, quite possibly the highest in the nation (not sure about that). Air quality isn't so great here; there is a sulfur odor in the air at times. Yes, that's pretty gross, but I guess like anything else, you get used to it. It's densely populated here; there's way too many people for my taste. Traffic can be pretty terrible too (again, because it's too populated). Stay away from the major cities unless you like noise and traffic congestion. I like the farmlands and the woodsy areas but they are diminishing every year. Suburban sprawl is taking over "the garden state". What we call "McMansions", (very expensive, large houses for single families) are very popular here, and condominiums are going up faster than you can blink an eye. One positive thing I have to say about New Jersey is that we do have lots of beaches and boardwalks to enjoy. Gambling in the casinos of Atlantic City is pretty cool too.

• United States
4 Dec 11
That's why I joined a good company! I want to go back to where I was born and raised. I long to return to the place where I recognize those New Jersey Turnpike signs (You know, the ones that look like green squares bordered in white with the top left and bottom right corners with the big, white "TP" in the middle) and see them almost every day. Ditto for all the caution-yellow and grass-green Garden State Parkway signs and the white ellipses/circles inscribed in black squares/rectangles. But wait - there's more! I've been to the Children's Museum in Paramus and the lovely Waterloo Village. Something to divert a mind that thinks that Jersey is all, um, Italian hunks and babes and Turnpike. So, I agree that although pricy, Jersey's a wonderful place to live. By the way, the company has residual income and I'll rarely commute. I have yet to reach a certain level in the company so that I'll be rich enough just to survive in Jersey.

• United States
17 May 07
I grew up in South Jersey and moved out of there about 9 Years ago the Taxes are Killing people up there I was Paying $6000 a Year and now where I live I pay about $400 a year and I live on 4 acres of land. I would never move back there when I grew up it was all woods and Farmland and now it is Nothing but houses and more Houses It kinda turns my stomach to see that happen.But where I live now it is starting to Happen so it jusat a matter of time before my taxes go sky High.I have a Farm in my Backyard and also 2500 acre gaming preserve on my one side of property. Have a Great Day/Night.

• United States
27 Apr 07
I have never lived in New Jersey.I have always wanted to visit though.

• United States
12 May 09
Iv lived in new jersey all of my life! Jersey born and raised =) I love it. everytime i go out of state i brag that im a jersey girl. i admit some parts are bad but you have to know how to not just judge a place by the negatives like Camden. jersey suburbs are soo nice and even luxurious, believe it or not, we are not the armpit of the United States

• United States
8 Sep 11
Born and raised there (now living in anole-riddled FL)! Though pricey to live with taxes and all, I love the state! Don't care for asthma and allergies that I'll risk having episodes of, but it's much nicer than my current residence. The roads seem boring to some, but the shields just scream nostalgia to me - I have to admit that I love the one for the Turnpike! The Catholic churches there are so much better and pipe organs are numerous! I happened to attend one off the junction of Routes 46 and 3 with an instrument by local builder Peregallo. Also, the services for autistic people like me were top-rate - better than FL!

• United States
1 Jul 08
It's boring, expensive, and crowded. I'm sure most people want to leave, but most rarely do. And why is that? I've overheard tons of conversations in the middle of stores and they have all been about one main thing. Living in NJ. It's really expensive to live here now and a lot of people are tired of the traffic.