How much does your cat weigh?

United States
April 25, 2007 10:45pm CST
We have two cats. Blackroot and Madmartigan. Blackroot is about 7 months and probably about 6 pounds. Madmartigan is a year old and I swear he must be about 12 pounds. He's solid and lean looking though. How much do you think yor cat(s) weigh?
4 responses

• United States
26 Apr 07
My cat is almost 8 years old and she is about 13 lbs. She's a bit overweight so we put her on diet food and we're trying to get her to exercise more.

• United States
26 Apr 07
My two get lots of exercise. I think some cats are just naturally bigger than others as well. My one who is almost like 12 pounds or so is very muscular and rather lean looking. So I guess I will not worry yet. :)

• United States
29 Apr 07
Well, mine has a big floppy belly. LOL

• United States
30 Apr 07
Gotcha! That's a little different then. hehe Good luck with her and the diet. I know we had a overwight cat when I was growing up and putting him on a diet was a nightmare! We gave up. haha

• Turkey
26 Apr 07
Both my cats are around 4.5 kilos, Honey whos 2 years old is just a big ball of fluff and Max whos 1 year old is larger/taller than Honey and is a lean streamlined cat.

• United States
26 Apr 07
Very cute. Both of your cats are gorgeous. I especially like the markings on the lighter colored one. Very unique.

• Turkey
30 Apr 07
We think that one of Honey's parents was a tabby, as his brothers were all tabby colours but with the same markings as Honey.


• United States
26 Apr 07
My little Blackroot looks heavier than she is as well. She is part MaineCoon. She has very fluffy fur and a huge tail. So it just makes her look chubby.

• United States
26 Apr 07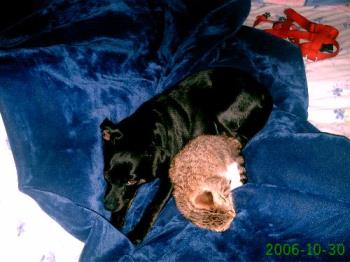 My cat weighs around 4 lbs. She's going to be 2 years old in June. She's just really thin. When she was a kitten she had worms. We got her when she was almost 5 months old and she had never been to the vet and had worms her whole life. Our vet was amazed that she had even lived, and didn't believe us that she was as old as she was. We got rid of the worms of course, but she stayed small because of it. The picture shows her right next to my 18 lb dog.

• United States
26 Apr 07
Aww, she is so tiny. It's sad that she had worms so bad! she is lucky to be alive. And even luckier to have a family like yours!