Ladies: Have you heard of a mooncup?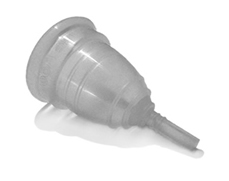 Hong Kong
April 26, 2007 7:43am CST
I haven't until i read one of the discussions here in mylot. What is it? A mooncup is a reusable menstrual cup, that is two inches long and is madefrom soft silicone rubber. It is worn internally like a tampon, but collects menstrual fluid rather than absorbing it. (from www.mooncup.co.uk) It is quite interesting really (from my point of view, at least).=) Are you using one of these mooncups? Or would you want to use one?
7 responses

• Ecuador
8 Jun 07
I've been using it for almost two years and love it. Now that I look back I think it was irresponsible from my part to wear tampons, knowing they can cause TSS (I mean, not that everyone who uses tampons is irresponsible but because I was very aware of the risk and didn't care) It might not be an option for those women who would never use a tampon (for them there are natural cloth pads, which are greener and healthier than the regular disposable ones), but for anyone used to wear tampons it's not really a big difference, IME.

•
27 Apr 07
I've used the mooncup about 3-4 years now, and I'd never go back to disposables. The difference financially is quite significant. it doesn't take very long to make the money you spend back by not buying pad or tampons. it's really convenient. unlike a tampon you can put it in when you're due to start with no ill effects. so you can put it in, then go out for the day and not worry about it. you only need to empty it about twice a day, up to four times is the most I've had to, and in the past I've had to change tampons about 2 hours apart at the peak. there is no TSS risk with the mooncup. no fibres to collect bacteria to breed. there is no smell (which you can get with tampons and pads) it doesn't dry you out, which can cause a lot of problems. I love mine. you couldn't pay me to switch back to messy, smelly, inconvenient eco-damageing disposables.

• United States
26 Apr 07
This is the first time I have ever heard of such a thing; It looks good but will you wear it all day and where do the stuff siphons off into?

•
27 Apr 07
mostly you end up only needing to empty it, say morning when you get up, then before bed. sometimes a bit more, but not that often. and the contents go wherever you put them. down the toilet usually, or rinsed down the sink. I've heard some people even use it to fertilise their plants.

• Canada
1 May 07
I wouldn't be able to... I can't where a tampon because it hurts so wearing a cup internally would kill...

•
27 Apr 07
I've heard of them, in fact i know of someone on a forum i frequent who has a web site selling them. I dont use one myself though, i just don't think it would suit my lifestyle. For one thing i would really feel uncomfortable using one while at work or in a public loo. Great idea though.

• United States
26 Apr 07
No I have never heard of this and I don't think I would use one either. Why would you want to collect the fluid? That is just gross.

•
27 Apr 07
I think you're misunderstanding what she's saying there. it's not collecting it as in keeping it in a jar and labelling it. hehe. instead of being absorbed into a tampon (along with secretions vital to maintain health) it pools inside the cup. it's not even touching you, unlike on the surface of a tampon. and it doesn't go stale either. when you empty it, you take the cup out and tip the contents away, then rinse it out. although as for why would someone WANT to collect the fluid. I've heard it makes an excellent plant fertiliser. hehe.

•
28 Aug 09
Yes, I've just started using one and it's so great! I no longer dread my periods because I don't have to worry if I've got enough tampons, I don't have so much pain and I'm saving money, helping the environment and improving my health. (As it's really not hygienic having all those man-made fibres inside you, and not at all healthy the way that tampons dry out the natural moisture that's supposed to be there). It makes periods feel much more healthy and straightforward.