Do you have a "feline" alarm clock?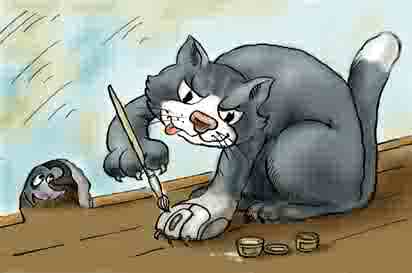 United States
April 26, 2007 9:42am CST
My cat Moose is like an alarm clock.I am an early riser anyway but sometimes if I don't get to bed til later,I want to sleep later.No such thing.Moose jumps up on my dresser and creates own alarm clock by knocking stuff off my dresser.Not just anything,stuff he knows will make the most noise.I chase him off and get comfortable,then he jumps back up. Chase him off then I lay back down,he jumps up and he will keep doing that til I get up .Does your cat wake you up when he thinks you have slept long enough or are you lucky enough to have a cat that lets you sleep?
8 responses

•
26 Apr 07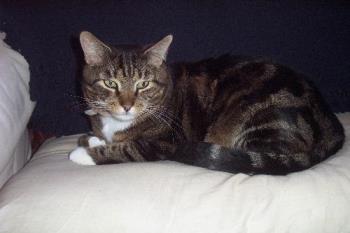 Moomin is my feline alarm clock. She sleeps on the end of the bed and is usually the one to wake first. She knows when the clock rings it is time to get up and, inevitably, she will yawn, stretch, then walk up the bed onto my chest and purr lovingly into my face. She has been known to head butt me sometimes if I don't get up and give her breakfast.

• United States
27 Apr 07
I have been a victem of a few head butts myself . Not when I wake up in the morning though.I don't sleep well at all at night so sometimes I will doze off in the chair.Moose wants none of that!He will do what ever is necessary ,lol,including headbutting.When he wants to be petted,he wants to be petted! lol

• United States
3 Jun 07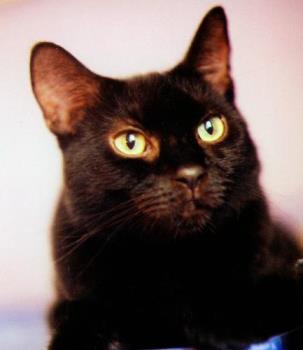 Well I have two "children" Kissy and Pyewacket, and Pyewacket is the definite attention grabber--He always sleeps on my bed with me and will be perfectly content to stay put up to a point...if I snooze just a bit too long for his liking, he'll leave his comfortable spot saunters over to me and gives me a nice swift butt with head on my face as if to say.."Okay mom...time to get up..I'm starving." LOL And of course he continues this until I do get up--he's very persistent

• United States
3 Jun 07
i must say that pyewacket is quite the handsome kitty! I just wish they had a shut off button we could use when we need our sleep ,lol.there is no such thing as oversleeping with my moose around,lol

• United States
3 Jun 07
Well your moose definitely sounds very demanding--aww..but I bet you love him to pieces..right??

• Ireland
1 Jun 07
Yes, I do have a feline alarm clock. I wonder why the kid who she belongs to can't seem to hear her ring? She is one of those persistant alarms that doesn't have a snooze function, either. Very, very annoying!

• United States
2 Jun 07
That would be wonderful if they did come with snooze buttons,lol. It would be nice to sleep all night without being woken up

• United States
29 Apr 07
LOL I have a puppy alarm clock. He wakes me up at 6AM every morning to let him out to potty. This is a bad time for me as I dont get to bed till after 2 Am and I need all the beauty sleep that I can get. LOL My cats dont seem to wake me up unless I dont wake up when Wiley starts to make weird noise.

• United States
29 Apr 07
A puppy alarm! What kind of puppy? I have a terrible time sleeping so I really need the extra time if i can get but Moose doesn't want to hear it. They don't want to hear that we need our beauty sleep,lol.

• Philippines
28 Apr 07
Yeah, I also had it before. One morning, my cat jumped to my bed to wake me up. It was very funny because when I woke up, I just saw her beside me. And because my conscious is still asleep, I threw her out of my bed. But I feel sorry for it. But despite of it, she still wakes me up.

• United States
29 Apr 07
Oh ,yes,cats are very stubborn.If they set their mind to something,nothing will stop them.If they want to wake mom and /or dad,they will find a way,lol.

• United States
27 Apr 07
Ha! Scamp pokes me in the face when he decides I've slept long enough. And he's not the first kitty alarm clock I've had - and they have all been a large part Siamese. Sab, my first cat, would let me sleep in if I wanted to, so long as that food bowl had food. The Doctor, kept me from over sleeping & missing work on more than once. But Scamp doesn't get daylight savings or weekends, both of which The Doctor caught on to pretty quick.

• United States
28 Apr 07
Sometimes their morning antics come in handy,lol!

• United States
26 Apr 07
the cats will usually pick one cat it seems as an envoy if we have slept past morning can time.he will come upstairs and wake me up by yowling in the hall. they have dry food available to them,but they want the can NOW lol

• United States
27 Apr 07
They are so demanding aren't they?lol They want to be fed Now ,they want to be petted Now! There's no such thing as later with a cat,lol.

• United States
26 Apr 07
Yes, unfortunately we do have a feline alarm clock! On weekday mornings we are up by 6:30 at the latest (I am up at 5:00 most mornings). On weekends, we would dearly love to sleep in, but the darn cat wants to be fed at 6:30!!! I suppose we created the monster by feeding him immediately upon awakening. (we feed him as we get our coffee). On weekends he will come to our room and meow VERY LOUDLY repeatedly until we get up. There is no sleeping through this sound..he sounds like a child crying or a woman whining! He will eventually hop onto the bed and put his nose right on ours ....and let his whiskers tickle our faces!

• United States
27 Apr 07
6:30 is when Moose wants to be fed too give or take a few minutes. My dad suggested that on the weekends,I should feed him then go back to bed because I have been having such a hard time sleeping.Don't know if Moose will let me go back to sleep,lol?