what is your favorite APO HIKING SOCIETY songs?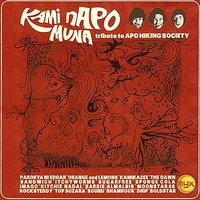 Philippines
April 27, 2007 3:20am CST
since myx gave a tribute to apo hiking society,i already bought the remake cd's of apo..(sung by the popular bands today)..too bad,i didnt watch the live concert of the tribute.. when i bought the cd,i enjoy hearing songs of apo that i'd never heard before..i love the message of every songs and the way they remake it..my favorites were panalangin,nakapagtataka,ewan,and yakap sa dilim..how about you?what is/are your favorite apo songs that the was being remake?
5 responses

• Philippines
28 Apr 07
mahirap magmahal ng syota ng iba....lol... well there are a lot of songs from apo. good quality songs. have you heard american junk? thats a good song. but i dont think it was revived.

• Philippines
30 Apr 07
hehe..do you dedicated that song on someone?i havnt heard american junk..

• Philippines
1 May 07
american junk is about filipino people who are so in on american products and foods. it was a funny song. hope you can find time to hear it. i dont know if it has on youtube. about the first song.... i dont dedicate to anybody lol, its the first song that came to mind when i read your discussion.

• Philippines
2 May 07
hhmm..i will check that american junk on you tube..hehe!it thought that song was dedicated to your girlfriends..hehe!


• Philippines
28 Apr 07
dOO bi Doo., nakapagtataka,panalangin. My top 3..

• Philippines
27 Apr 07
One song that really touch my heart is the song, nakakapagtaka. I dont know but it gives me a different feeling.

• Philippines
30 Apr 07
maybe because you can relate on that song..dont you?

• Philippines
27 Apr 07
my favorites are blue jeans, when i met you and doo bi doo

• Philippines
30 Apr 07
blue jeans and doo bi doo makes me go jump..hehe!

• Philippines
6 Dec 07
Mine..........Yakap sa Dilim............the original version hehehehehehe.THe revived ones sucks.....