what role would u take up?

India
April 27, 2007 9:47am CST
well if u were given the role of your own choice in the Harry Potter movies than which role would u like to do?except the role of harry potter himself! well i would like to do the role of hermeione granger because she is very intellegent,harry always hangs around with her and also she is his best friend.but ginny's role will also do(at least in book 6 as harry's girlfriend
3 responses


• India
27 Apr 07
i bet all those who will read ur mail would be doing this thing first we they actually meet u"they'll kill u first"

• India
27 Apr 07
and in anywaysif u think that u are too matured and grown up to read these books of harry potter than let me tell u that u are missing a very good thing in your life


• United States
27 Apr 07
I think that I would like to be Tonks. She fun, a bit funky, and I love how she can change the way she looks. I also like her because we are both a bit clumsy, so I could play her part without having to do too much research in that regard.

• Philippines
27 Apr 07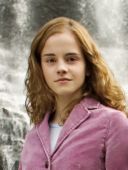 I like to play Hermione Grangers role too, she's very determined to learn, studies very hard in all of her classes and even managed to take two classes at once (book 3). As embarrasing as it is, I was never the brightest student and I easily get bored in class though maybe because I didn't really like the discussion so I'd like to know how it is like to be a bookworm and genius like Hermoine Granger. Severus Snape's role is interesting too, he's a hard headed and insecure teacher but deep down inside he still cares for the safety of the students. Also there is something very mysterious about him, something that attracts me into immersing myself more in his character, there is probably more to him than a teacher who gives Harry and all Gryffindor a hard time in his class.