Happy! Happy! Joy! Joy!

United States
April 27, 2007 8:51pm CST
The other night something on the cat porch fell over & popped the door open a bit. The new roomie went out for one last cigarett & saw one of our cats sticking his silly head out of it. She went over, shoved the cat in, shoved the offending object in & shut the door. Then, looking around, she saw another cat walk over & sit down under a table in the yard. She went over, pick him up & tossed his lard butt back inside. She did a quick nose count & thought she saw the 3 ferals that live inside & no other cats came out so she thought that might be the lot that got out. Next morning, Gabby, our #1 escape artist, was happily rolling in the dirt on the side of the house. She picked her up & pitched her inside as well. Well, that was 3 days ago & neither myself nor the other roomie had seen Gizmo, our male feral. I called & got my cat trap back from the person I lended it to & we were getting ready to set up the trap when the roomie went into try & pick up the offending object on the cat porch. After she left the porch, I was in the kitchen when Gizmo came bolting thru. I called her inside telling her that we didn't have to look for him, he was, indeed inside. I saw him bolt out again, ate the tuna we opened to bait the trap for dinner & feel much happier knowing the little dummy wasn't dumb enough to actually go outside!!!
7 responses

• Ireland
28 Apr 07
It sounds like a very lively household you have there. What are all their names besides Gizmo? Glad they all got themselves back to where they are supposed to be. The little darlings really do have minds of their own. I never know what mine will get up to next, but at least it is generally charming and they are out of their devil kitten phases.

• United States
28 Apr 07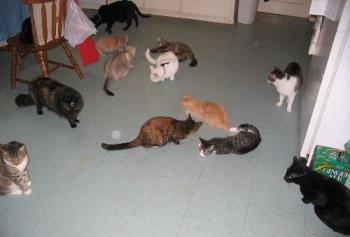 Sassy-16; Nino-13 1/2; Mitten-13ish; Chalube, Kit, Scamp-10 or will be this year; Star-6 1/2; Rio, Timus, Tuti, Nefer, Taj-5; Ronnie, Gabby-4; Gizmo, Pong, Ping, Solo, Serena, E.B.-3 or will be soon; Rygel, Rocky-2; Oliver, Booboo, Cookie-over 1 but less than 2.

• United States
28 Apr 07
Good one, ElicBxn! Here's a heart-render for yah: Three nights before Christmas I or my Hubby went out on our balcony to turn off the Christmas lights. We've got a sliding door, and all the cats tend to try to sneak out while we're not looking. We have several blue and black cats, and sometimes you just can't see them in the dark. I went to feed our Blue cat Zap, and he didn't arrive for breakfast. We looked and looked for him, as he usually holes up in a closet to sleep - we didn't think too much of it, until he didn't show for lunch or dinner! Then we did an entire apartment search, and I found cat prints in the snow on the balcony, but no cat! He had obviously jumped off - or so we thought. Hubby was beside himself. We put out tuna, roamed the complex looking for him, called him, but no answer. Finally, on Christmas night I opened the door to go put out the garbage, and there he was, looking cold and hungry. As soon as I scolded him and told him to get inside, he slinked right in and ran for his food bowl. We later learned that he had climbed the roof... Yes, he was on top of our building!!!!!! and had jumped onto someone else's balcony. They fed him for a few days, but he begged to be let out - and when they did, he came straight back to us on the other side of the building. GAHHHHHHH!!!!!!! At least it was a lovely Christmas present to get him back, safe and sound! ;)

• Canada
28 Apr 07
pretty interesting time but what are you referring to as offending object? I don't understand.

• United States
28 Apr 07
We have an old cat tree outside. It was the object that fell over & popped open the door. That was the offending object, its pretty much on its last ... um, legs. We got it from a friend who got it when her cat, Vinnie was a kitten, about 18/20 years ago & was out on her covered, but not insulated porch for most of that time. This cat tree was made out of cardboard tubing, so its given good service.

• Canada
28 Apr 07
thats great to know he didn't up and disappear

• United States
28 Apr 07
LOL! They are keeping you hopping, aren't they? They always want to go where you don't want them to, and then they refuse to go where you DO want them too. They are such persnickety critters! But they manage to work their way into our hearts every time.

• United States
28 Apr 07
Haha, that's funny. My mother gets up at four in the morning now to type. Our cat came in when she got up and went into our office and got up on the piano stool. A few minutes later, she came back into the office to start typing. As she came back in, the cat meowed at her just to be talking. As she sat down, she heard a loud "Thump!" That cat had tried to curl up into a curlique and fell off of the piano stool! Mama said he looked pitiful and funny at the same time. Too bad I didn't see it.

• Philippines
28 Apr 07
My, oh my! You have so many cats for pets. Cats have a way of escaping. A very good way, because they can climb almost anything at all. I can see why you were so happy to see that they are all there and complete in number. Good luck at keeping all your cats inside always. I have only one and yet he is also good at escaping.