Sick and Tired of people putting down my president!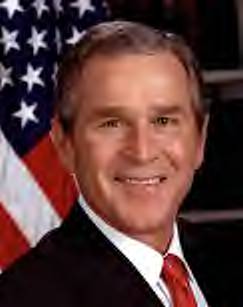 United States
2 responses

• United States
29 Apr 07
Well he is incompetent and doesn't know what he's doing. This country has done nothing but go downhill since he took office. The national debt was all cleared up before he became president, now it's bigger than it ever was. He started this completely unjust and unnecessary war with Iraq. I don't support him or any decisions that he has made in his presidency. I didn't vote for him. I strongly suspect that the elections were rigged anyway. Why don't you say why you like him rather than demand to know why others don't like him. Why do you care if other people disagree with you?

• United States
29 Apr 07
First of all I asked for a valid argument, and all I have gotten is knee jerk emotional reactions that have no basis in logic. Second, Bush's economy is stronger than Clinton's ecomony, just look at the numbers. Third Bill Clinton refused to do anything about terrorists. New York got attacked under Clinton, No He DIDN't. The Sudanese were willing to give up Bin Laudin. Clinton did nothing once again, and Clinton never once got the majority of the American vote. In 1992, he only got 43% of the vote. In 1996, he only got 48% of the vote. Both of Bush's elections he got more votes than Clinton did. George W. Bush has given us tax cuts, something that Clinton never did. Bush also gave us a ban on partial birth abortion that Clinton never did. Since 9/11/01, have we been attacked since? I think Bush's record speaks for itself.

• United States
29 Apr 07
Try making a valid argument yourself. Where did you find these so called 'facts'? Chances are they came from a biased source. My response was not emotional. I've done research from unbiased sources. Clearly you can't have an intelligent conversation if your first impulse is to react to my view with anger. Whatever, I'll go elsewhere so I can find more mature conversation.

• United States
29 Apr 07
Look at our economy since he has become president. It has gone down drastically. Gas prices have gone up, and are increasing day by day. It is ridiculous. And not to mention this war we are in. You cannot lie, the country was in much better shape and peace when Clinton was president. Plus, he is a republican.

• United States
30 Apr 07
Ignoring the fact that economic changes are long term, so anything that is currently happening in our economy is related to things that impacted it years ago, I have to take issue with your last statement. "Plus, he is a republican." How unfortunate that so many Americans still are more concerned with party affiliations than anything else! Personally, I consider myself to be an independent voter. I vote for someone because of what they have done, not who they are associated with. I will freely admit that I voted for Bush the second time around. Looking at all of the issues (and yes, there is more to being president than economy and war) I had to choose him over Kerry. I think it's really sad that the Democrats couldn't find someone better to run. I really hope that both parties put up decent candidates for 08 so we can have a real race. If the democrats come up with a better candidate than the republicans, I will happily vote for them. Since it appears that they're planning to run Hillary though, I suspect I'll find myself voting republican again. I can't imagine a worse candidate than her.