does your kids love SPONGE BOB SQUARE PANTS?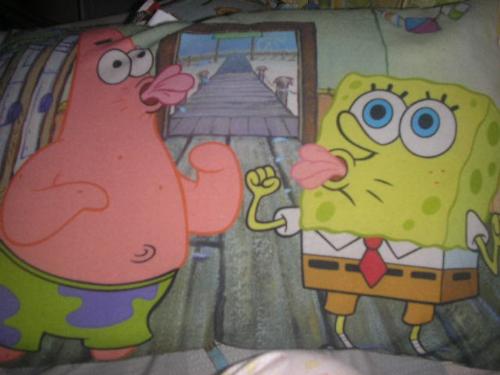 Philippines
April 29, 2007 3:40am CST
if they do, do they love patrick too?
7 responses

• Philippines
22 Nov 07
I don't have kids but I love Spongebob! The show is so funny and weird! I like their stupidity and how everything turns out to be ok. It is a lot different from other cartoons. I also like patrick. Literally speaking, he is the star of the show! His presence with spongebob just makes the show a lot interesting and you wouldn't be able to tell what the two have in mind and what they'll do next. Squidwort is also funny and how spongebob ruins his life is just simply hilarious! The show also have some unique comedy to it. I know I am a little bit too old for cartoons, but I got to say, it is one of the greatest shows ever.

• Philippines
23 Nov 07
oh yes that is true, i love patrick star too. one time i watched an episode without patrick and i didnt enjoyed it at all. it is not the same when patrick is not around.

• United States
29 Apr 07
Oh God Yes!!!! They love to watch spongebob and patrick. They even sing the theme song when its on right down to the laugh the pitrate does!!! Its funny! They like mr. crabs too. They run around the house yellin money, money, money!!!

• Philippines
30 Apr 07
yeah i can do that too money money money. LOL. well kids really love sponge bob and his friends. thanks for the response


• Philippines
21 Nov 07
oh yes some kids just enjoy watching the singing part then get so bore and would change channels. thanks for the response


• United States
29 Apr 07
Oh yes, our entire family loves Spongebob and Patrick and Gary and Mr. Krabs and Sandy and Squidward. The show is hilarious and we watch the series every day on television. We also own season 1 and 2 on DVD plus some special episode selection DVD's. We also own the Spongebob Movie. That was quite a funny movie! Our three boys just have to see Spongebob. The boys are ages 2, 5, and 7 1/2 years old. And then there is me and my adult daughter too who also love Spongebob.

• Philippines
30 Apr 07
lol yes the whole family loves this bikini bottom group. two thums up for them. thnaks for the response

• United States
29 Apr 07
Yes my daughter has the dvd movie of spongebob she loves him, i love watching the show as well, patrick is pretty funny i dont know who i like better spongebob or patrick its a toss up lol

• Philippines
30 Apr 07
yeah my kis watch it too everyday. at first i was not really paying much attention to it. but now i keep asking them what time is sponge bob. i bought them a dvd also of sponge bob and a pillow. they are really cute. watching them makes me feel young again.

• Australia
23 Nov 07
hi there roniroxas my kids love sponge bob square square pants and i really dont lke that cartoon much but anyways thanks for this discussion