Do you like my cat?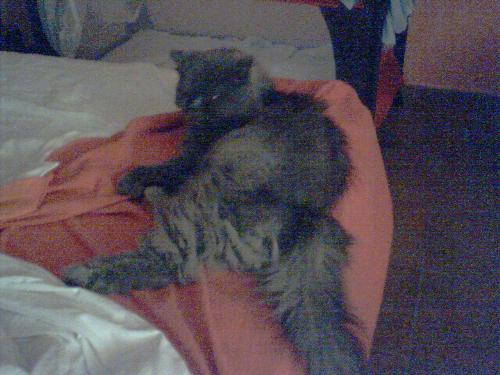 Italy
6 responses

• Romania
1 May 07
I like your cat , from this picture I can see he has got a lot of fur :). It's just like mine . I would like to congratulate you for your star and for your big rating ;) I wanted to share my thoughts but I didn't know how and where so I though this would be the right place ,because it's the first response that i write after you reached the 100 posts milestone .

• Canada
29 Apr 07
Your cat looks very cute and fluffy. you must like to cuddle with her.

• Italy
29 Apr 07
Yes. He is 6 year old and whe love him very much. We think he is also very intelligent: once that he fall in the garden of our neighbours (10 meters below us!) we throw him a little basket tied by a rope. He jumped in! So we could rescue him.

• Canada
1 May 07
yes i would say he is quite smart then.


• United States
29 Apr 07
My granddaughter would go ape over your cat. She love long haired cats. she loves cats period but long haired ones are her favorites. We had a mancoone for about 15 years. He was beautiful. Well he looked mancoon. He really was an alley cat.