do you like eminem and his music?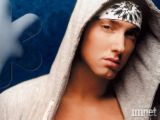 Philippines
8 responses


• Philippines
30 Apr 07
Sometimes. I've just loved one his songs. Mocking Bird.

• Brazil
1 Jun 07
Well, I also love his hits, although sometimes they can get a little "ou of control"... :) Anyway, my favorite songs oh his are "My Band" and "Lose Yourself".

• Italy
30 May 07
My favourite song is "the real slim shady"..... very good :-)

• Philippines
7 May 07
yeah, he's cute && i like his songs so much..some of the songs are kinda aggressive but i know his song, it was heartily composed && sang...i memorized some of his songs..hehhee!!

• Indonesia
30 Apr 07
for me eminem is a brave white rapper, he do not affraid to tell what lies in his mind, he just show to the world the truth, n' his lyric it's very powerful to make changes to the society..

• Australia
30 Apr 07
I grew up listening to eminem - he was the first rap artist i had listened to. I had listened to his music up until after the Eminem Show - which was actually supposed to be his last album. His stuff afterwards is mainly for commercial purposes - which is the reason why you may find it gives you a head ache - i don't like his new stuff and can't even stand it - the main reason is his flow is too constant and boring and doesn't change. Listen to his old music - back before The Eminem Show - those songs are much much better and you won't get a headache when listening because he changes his style throughout a song. Nowadays i listen to artists like Jedi Mind Tricks, Canibus and Immortal Technique.