Dealing with a BAD HAIR CUT...but how too..???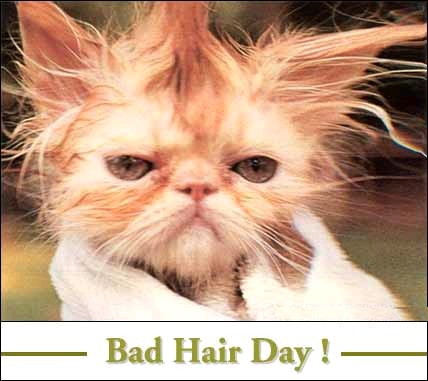 7 responses

• Singapore
30 Apr 07
Live with it lol. I got this kind of experience too. Nothing much you can do. Pretend it is cool and secretly hope that your hair grows quickly so that you can give it a proper hair the next time. :P

• Singapore
17 Dec 07
Getting a bad hair cut is the worst thing to happen.. It's either grow it abit longer b4 cutting it again or cut till it's really short (because there's no much difference) than let it regrow again.. But for me, a guy, i can just shave everything bald and regrow everything again :)

• India
13 Dec 07
I brush my hair in the morning and put it in a ponytail... no I don't use a mirror most of the time and I cant use a comb because it would break.I comb 2-3 times a day. And wash once a week. Never dry them by dryer, or do it rarely. My hair are very shiny and straight, so I must make curls to look pretty. But do it once a week after wash them. Never am bothered by making my hair and never go outside without setting. I can don't use make up, but hair must be in good position.

• Malaysia
1 May 07
well you can either get it re-styled or just wait for it to grow hehe..good luck ;)

• United States
1 May 07
I think we all get bad hair cut or you can say unexpected hair cut at sometime. And we don't have any option but to wait the hair grow long and get another nice hair cut. If you still have a little long hair you can try a style in short hair. I think the best thing to hide your bad hair cut is to wear a hat or cap for timebeing, I mean untill your hair grow long to get another hair cut.

• Canada
1 May 07
As much as it sucks I just try to embrace it. Theres nothing that can be done about it until it grows out to the right length. So what I do is just fine a way to style it or just put it up so it looks decent until it grows out.

• United States
30 Apr 07
I think everyone has gotten a bad haircut at one point or another and really you only have two options; either live with it as best you can (use any styling method humanly possible to make it look as good as you can) or go get it cut again by someone who actually knows what they're doing and will listen to your needs. Good luck!