Babies & Toddlers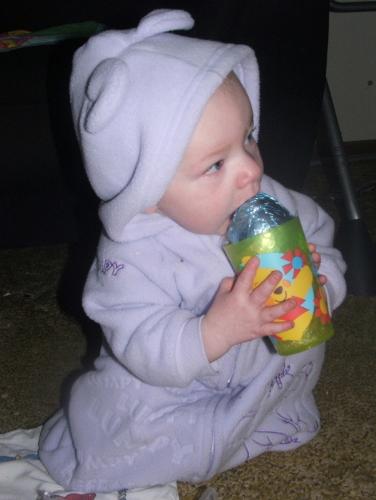 Australia
April 30, 2007 8:59pm CST
Ok, i need a bit of insight - when is a baby old enough to be classed as a toddler & no longer a baby??? I replied to a post earlier about pacifiers & when to stop using them & someone mentioned babies are ok to have a pacifier but when they are toddlers & have teeth, the pacifier needs to go. I don't think having teeth makes them any less babies. My daughter is almost 11 months but to me she's still a baby (even though she's all over the place & has teeth). I guess i always thought of toddlers as being around the 2 yrs mark - is that right or a bit off? Can someone tell me at what stage or age a baby is no longer a baby & is classed as a toddler please?!!!
8 responses

• United States
1 May 07
I've always had the understanding that babies become toddlers when they start walking. But my daughter has been walking since she was 13 months old and is 18 months old now and I still consider her my baby. Other people my call her a toddler but she's my baby.

• Australia
1 May 07
I thought the walking thing might come in to it as well but my daughter's been walking since about 8 1/2 months so i don't think an 8 1/2 month old is even close to being a toddler :)

• United States
1 Sep 07
Well, the doctors and all those "professionals" that I have been involved with since having kids all consider a child a toddler once they reach age 2. However i dont know when I will consider mine a toddler, she will always be my baby lol. But I don't know if you have noticed the clothig for kids. It goes up to 24 months and then 2T, 3T and so on. Well, 2T size was about 2 and a half year of age for my neice(mine isn't there yet). The T stands for toddler. She is turning 5 this month and wears 5T now. So I guess they follow the age. So I guess 2 is toddler lol.

• Australia
2 Sep 07
I hadn't thought of it that way, probably because here in Oz, they don't put the T behind the clothing number - it goes through all the 0 sizes (000000 - very prem, then you get 0000 new born, 000 about 3 months, 00 - 6 months, 0 - 9 months etc) but sizes do kinda vary - once they get to 1 then they just do 2, 3, 4 etc. I like the way the US does the other ones, like 18 months & stuff coz it comes in handy when i buy from over there via eBay! I have to agree with you though, 2 does seem about the age! Thank you for your thoughts!

• Australia
19 Jul 07
my view of toddlers is being aged between 1 and a 1/2 years and 21/2 years, as by the tpme they reach 1 and a 1/2 - 2 years of age, they are no longer considered a baby as by this time rhey are "toddling around". Therefore at this stage children considered to be a toddler until 2 and 1/2 years of age. when they are starting to come out of the toddler stage is approximately 2 and a 1/2 years and start to enter the preschool stage. but remember this is just my view on this topic- all children are different and progress at different times and different levels.

• Australia
2 Sep 07
I agree with you but here we don't do a preschool thing at that age :) There are involuntary things like play group but you can do them from birth. The closest thing to a pre - school type thing is Kindergarten & they go there at about 4! Thanks for your thoughts :)

• United States
31 May 07
My son is going to be a year next month and I still think of him as a baby. When I think of toddler, I think of walking, starting to say words, and starting to potty train. I would think that it is some where around the 1 year mark, but a little later. Teeth is definately not a way I would think to judge. My son got his first teeth when he was 5 months old, definately still a baby!

• Australia
9 Jun 07
I do agree with most of this although my daughter was walking at 8 1/2 months & she said her first word just before 6 months - neither of which i would consider a toddler - she's now 1 & running like a nut but there is still a fair bit of time left before she'll be potty trained so it does seem to be different for every one! Thank you for your thoughts :)

• United States
1 May 07
I think your right, I've always thought of a toddler to be around 18 months to 2 years. THe line is a little muddy, but I think it's somewhere around there. ANd whether or not they have teeth, is no indication of them being a toddler, as my youngest got his first teeth at four months. I remember my oldest started walking around 10 months or so, and it was hard hearing someone calling him a toddler, because he was still my baby. Now that he's a couple months shy of three, it seems like he's outgrowing his toddlerhood quicker than I'd like. Sometimes I look at him and see a 'child'. ): they grow up so fast.

• Australia
2 May 07
I think it will be hard when my little one isn't a baby any more & to think, she's only about a month away from being 1 - it's kind of scary! At least i have a general idea of when she's going to be classed as a toddler rather than a baby! Thanks for your input!

• United States
1 May 07
They are a toddler and no longer a baby when they are around the age of two. When they turn two that is when they began to talk clearly and understand you more when you are talking to them. My youngest child is 17mos and I still consider her to be a baby though. Yeah, but usually toddlers are around the age of two.

• Australia
1 May 07
I thought 2 might the a good age to become a toddler :) It's just hard to know - a lot of people say it's when they're walking & stuff but again my little one was an early walker & definitely not a toddler! Thanks :)

• United States
1 May 07
Leaving the pacifier issue out of it, I'm still struggling to figure this out too! My 2nd youngest just turned 2 and I still have a hard time not thinking of him as a baby. I think "toddler" usually refers to the time when they start "toddling" around. So a toddler would be a child that is walking but not yet a preschooler...from roughly 1 year to 3 years. Having teeth doesn't have anything to do with it. I would definitely still consider an 11 month old a baby though even if she is walking. To me though (at least with my older children) I started seeing them as toddlers around 18 months but it also depends on the child. My 2 year old is still very cuddly and loves being rocked so he still SEEMS like a baby to me even though I also see him as a toddler and a big boy when he's running around and playing.

• Australia
1 May 07
Yeah the 'toddling' around thing is a little confusing :) She's definitely toddling & has been for a few months now! I think she's a baby too but a very independent one! Thank you for your thoughts, it looks like everyone is thinking around the same age!


• Australia
2 Sep 07
I do agree somewhat but as i mentioned, my daughter was walking at 8 1/2 months so this is not a toddler!