Want to Visit Buckingham Palace?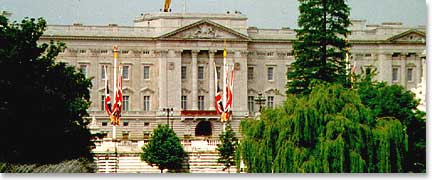 April 30, 2007 8:59pm CST
Any first-time visitor to London wants to see Buckingham Palace. This discussion was spawned by my Sis in Tumwater, Washington State, who said if she comes to England, she HAS to see Buckingham Palace. So, I thought some of you might like a little detail on the Royal Building... Buckingham Palace has served as the official London residence of Britain's sovereigns since 1837 when it evolved from a town house owned from the beginning of the eighteenth century by the Dukes of Buckingham. Today it is The Queen's official residence, housing seven hundred and seventy five rooms. Although in use for the many official events and receptions held by The Queen, areas of Buckingham Palace are opened to visitors on a regular basis. The Royal Mews at Buckingham Palace provides an opportunity for visitors to see the work of the Royal Household department which provides road transport for The Queen and members of the Royal Family by both horse-drawn carriage and car. Here, you will see a permanent display of State vehicles including the magnificent Gold State Coach used for Coronations as well as carriages used for Royal and State occasions, State Visits, weddings and the State Opening of Parliament. A State motor vehicle is also often on display. The regular Changing of the Guard in the forecourt of Buckingham Palace draws thousands of visitors to watch the soldiers and listen to the music. This involves a new guard exchanging duty with the old guard. The soldiers are drawn from one of the five regiments of Foot Guards in the British Army: the Scots Guards, the Irish Guards, the Welsh Guards, the Grenadier Guards and the Coldstream Guards. When The Queen is in residence, there are four sentries at the front of the building. When she is away there are two. The Queen's Guard usually consists of Foot Guards in their full-dress uniform of red tunics and bearskins, but if they have operational commitments, other infantry units take part in their place. At Buckingham Palace, Guard Mounting takes place at 11.30 am. This is held daily from May to July, and on alternate dates throughout the rest of the year. If you are lucky with your timing, you may even catch a glimpse of some members of the Royal Family during occasions when they come out onto the balcony of Buckingham Palace. So... is this a place you want to visit? And, do you look forward to a visit more now you know some more about it?
5 responses

•
7 May 07
Hi Darkwing, Thank you for this information, I didn't know half of the information you have put down! I must admit I've never been to the front gates of Buckingham Palace, although when I was in London a few weeks back, we did drive around the back and side of it, and I did want to walk from Trafalgar Square up to the Palace but didn't get chance, as there was too many shops to distract me lol! Blessed Be!

•
7 May 07
Lol. There are a few shops in London, and they're so big you can't miss them, so I can't blame you for that. It's quite a nice walk up from Trafalgar Square. Ewwwwww, all those flippin' pigeons. Did you have your hood up? lol Thank you for your response and Brightest Blessings. :-)

•
7 May 07
Yeah those darn pigeons are a bit of a nightmare, but it wasn't too bad as it was night time and I think most of them had gone off to nest!



•
15 May 07

Oh, there are some castles which hold Medieval reinactment battles and such like. I think you'd enjoy those, Lakota. Also, I think you would find York a very interesting place to visit. It's olde worlde city is built within castle walls, around which you can walk, and which is entered by the four main castle gates. There are lots of interesting, historical places to visit and you can amble along the riverside path, to relax. I have posted a picture here for you.:-)


•
7 May 07
I think a schedule of the Royal Family's residence is available somewhere. You might be able to find it online and if visiting again, can time your visit to catch them at home. I think they're probably at Windsor more than in the Palace but there are times you can find them home. The changing of the guards is fun too. You should try to catch that. Thank you for your response, my friend and Brightest Blessings.

•
1 May 07
I have to tell you that I've visited Buckingham Palace more times than I care to remember, except I've only visited to see the outside of it when we've had friends or relatives visiting from overseas. I would not consider paying money to actually get inside to see any of the stuff inside as it does not appeal to me and I think I already pay taxes to keep the royal family in their finery - I don't feel I need to pay any more money to them directly. This is a nice post though, I'm sure people will learn from it, thanks for starting it. x

•
1 May 07
You're very welcome, Anonymili. No, I've never paid money to go inside and I agree about the taxes we pay. I don't think I would savour going inside... it all looks very fine but I would feel as though I was encroaching. I've been inside the Brighton Pavilion, which must give a good idea of the type of layout, being of similar importance. That's a good idea for another thread. lol. Thank you for your response my friend, and Brightest Blessings.

• Australia
1 May 07
Hi Hon, Yes I think it would be really wonderful to visit Buckingham Palace as since I was a little girl I have heard all the wonderful stories and see this on the television but I do not think it would be the same as seeing Buckingham Palace for real it would be really awesome xx

•
1 May 07
Hi Kathy! You're going to be one busy lady during your visit next year!! lol. It's great to visit just the once, on the outside. The size of it is quite awesome and the Mall, leading from the front to Horseguards Parade is wide and straight. I think you'll enjoy the Changing of the Guards too, and a walk through Regents Park. Thank you for your response and Brightest Blessings.