Stamp Machine Rip-off

United States
April 30, 2007 10:14pm CST
Tonight, my husband ran down to the post office to get some stamps, so that Kristen could finish mailing graduation invitations. He came back mad as a hornet. The stamp machine, took his $10, gave him his $2.20 change and then didn't give him his stamps. Has this happened to anyone else.
5 responses

• United States
1 May 07
I haven't run into a situation in which I got change but no stamps. Did he bump the machine? If he came home mad, I think he might have, lol. Maybe one of you could go back tomorrow & get the stamps that didn't drop into the dispenser. It might take some time & patience, but $7.80 is a lot to give up without trying at least. The change machines here kind of freaked me out the first time. They give your change in dollar coins that look more like quarters. If you're not careful, they spend like quarters too. :(

• United States
1 May 07
He went back to the post office and got our stamps this morning. The postmaster told him that machine would lie, cheat and steal every time if you weren't careful. Evidently, the buttom MIke pushed was empty of stamps, and instead of telling him to choose something else, it just ate his money.

• United States
1 May 07
Sounds like the postmaster needs to have that machine recalibrated! That's a shame that they know it's broken & haven't done something about it yet. Most vending companies do repairs at no cost because the vendor is making money too. Oh well, at least you got the stamps you needed and have a plan for next time. :)

• United States
19 May 07
I just decided that if the post office isn't open...we get no stamps. I keep hearing of people who either got shorted their stamps, didn't get their change or got nothing.

• United States
1 May 07
I have never used a stamp machine in my life. I am not sure I have ever seen one. When we purchase stamps. We just go up to the window at the post office and buy them off the Post office clerk. I thought everyone did this. I buy them roll of 100 at a time so I dont ever run out. When the roll starts to get small, I go buy another one. LOL

• United States
1 May 07
I would do that, but it was after hours. They pick up the mail in the box outside of the post office at 11:00 p.m., and I wanted to get something in the mail that night. I won't make that mistake again, it will just have to wait until morning, regardless.

• United States
1 May 07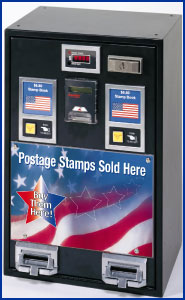 I hate post office stamp machines. I am always either losing money or not getting my stamps. It is sooooo frustrating so I have decided I will either buy from my mail carrier (we live on a rural route so our mail carrier carries books of stamps) or I go to the post office.

• United States
1 May 07
The post man that comes to my office carries stamps too I found out this morning. so, I have decided that from now on, I'll just buy them from him, and save a trip to the post office.

• United States
8 May 07
I won't use a stamp machine because of problems like that. I always get stamps directly from a person in the post office. Sorry to hear he got ripped off? Glad to hear he did get some stamps the next day from the post office without them charging him again.


• United States
20 Dec 07
I got ripped off today as well, made selection, then after making selection machine gave me some information about it not being able to give me any change and asked me if I wanted to choose another selection, I said no, thinking that it may give me option to cancel selection and refund me my $10 bill, and it gave me product and kept my $1.80 in change. Was about an hour wait in line so I walked out shouting and making a scene, my favorite thing to do... and tore out of the parking lot to come home to request refund from USPS, stating I would use every method available to me to avoid using their services due to this incident. Email/On-Line Banking/Shipping through UPS or FedEx, anything to avoid their services...

• India
2 May 07
thats why we dont use machines and all in india it arises much problems

• United States
11 May 07
Yes, I much prefer to deal with live people, and do so when things are open. They put the machines in the lobby for a convenience when the post office is already closed, but if they don't work, I don't see what convenience they are.

• India
15 May 07
thanks for the comment but i think we should use new tecnology and go forward and the machines should be serviced within a week i mean every week their should be a checkup of that machine