Has anyone ever head of a cat being deaf

United States
May 1, 2007 12:12pm CST
I think my cat Abigail is deaf because when I call her name or say kitty kitty she does not respond. When she is laying on me or beside me I make a loud noise behind her head she does not even look at where the noise came from. If she is deaf I think she was born that way and does not know any differently. She meow's and it does not sound muffled or strange. She is so loving and beautiful I will be keeping her because she is perfect to me. I once had a mentally retarted cat so why not a deaf one? Has anyone heard of calico cats being inner breed to be deaf? I know all calico cats are female so I was wondering if they had anyother health issues I did not know about.
9 responses

• United States
1 May 07
I have heard of cats being deaf. My sister's cat Cotton was deaf from birth and he is now 14 and has lived a very long and happy life. He even goes outside once in awhile. I am not sure about the Calico's but I am sure that it is possible. Just about anything is possible with cats. I don't believe that all Calico cats are female, the males are very rare but it is possible (I am pretty sure of this). If it bothers you that she doesn't seem to be listening take her to the veteranarian and there are probably tests that they can do to see if she is truly deaf. That is good that you aren't afraid of having a "disabled" cat. Disabled cats (just like disabled people) all deserve loving and safe homes. Way to go on taking care of your Abigail and good luck. mahmah

• United States
1 May 07
As I was reading your response Abigail climbed up on my lap and started to purr. I was giving her kisses how much better can it get? She's mine deaf or not. I've only had her for little over a month and she is around four years old with the tip of one ear cliped off, she has a scare of the left side of her lip that goes clear down to her bottom jaw bone. I do know what kind of life she has had but I know she is pampered here. Sammie our older cat hisses at Abigail and she just walks by Sammie like nothing. I think it is like she is deaf. I like I said Abigail is part of my family and she is a keeper. I feel no need to take her to the vet to get her ears checked because I will not be getting Kitty hearing aids for her. I do not think I could afford the batteries. LOL Thanks for your comments.

• Canada
2 May 07
I would be scared to have a disabled cat. I would love them, but they are not going to be allowed outside. They will stay indoor and spayed, safe and warm with me.

• United States
2 May 07
I am a firm believer in the spay and neuter program all of my pets are spayed or neutered. I tell them if mom can't have any more babies you can't either.LOL. I am not one for baby kittens or puppies. I will adopt them but I do not want the hassel of finding homes for them. It is just me.

• Italy
1 May 07
I've heard that cats being deaf from birth are more probably light blue eyed and with white mantle, as a genetical tract. Although, your cat seems to be turtle mantled (more than two colours=she is a female, since it is a character X-linked and only females have got two X chromosomes). Remember that even if she's deaf she is one of the best animals in the world! bye

• United States
2 May 07
I still continue to talke to Abigail not knowing if she can hear me or not. I would like to think she might fell my vibrations of my voice. What ever we are a family. She is a little deva. When she lays on me she straights out, with her belly up like she owns the world. Well I guess she owns this world.

• Australia
1 May 07
I have heard of cats being deaf, and probably she was born deaf. I am happy that you do not worry about your cat being deaf as it is not your cats fault that she is deaf, and I have not heard that calico cats have this in ther breed to be deaf though.

• United States
2 May 07
She is so sweet execet when she is biting my toes in the middle of the night. I have only had her a shot time but she is part of my heart. I was not looking for a new cat when I got her. I was shopping at pets mart and saw her in her cage. I asked to see her, I picked her up and she started to purr. I knew she needed to come home with me. I melted right then and there. It was all I needed to be hooked.


• United States
16 May 07
I think cats can learn sign language if you can get their attention.

• Philippines
16 May 07
cats do have ears like people and people get deaf, so why not cats? anyway, she might also be autistic. have her checked out by the vet.

• United States
16 May 07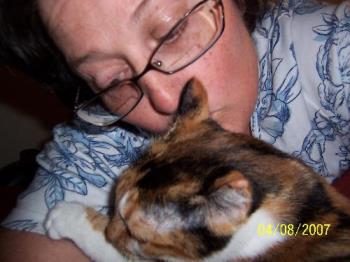 I have never given it a thought about her being autistic because she is very loving and comes to me when she wants loving. She also plays with our feet at night, well she actually bites our feet at night. I have not talked to our vet about it. I like her the way she is if she did not feel the need to protect us from our feet at night. LOL

• Ireland
17 May 07
I don't see any reason why she might not be deaf. I know it is genetically linked to white cats with blue eyes but I have never heard they are the only type of cats that can be deaf. We have had many very healthy calico females over the years and nothing ever came up specifically to them. It sounds like your kitty is just very unique and she is lucky to have you.

• United States
13 May 07
That's odd...I have heard of cats being deaf and for some reason it's usually white cats that are deaf..but looking at that picture your Abagail isn't pure white..unless one of her parents were white and the characteristic was inherited..Is it possible??

• United States
6 May 07
I too have heard of cats being deaf though I have never encountered one myself. I am sure Abigail will be just fine with you regardless of her hearing because it is so very obvious she is truely loved. I think like you that she can probably feel the vibrations of your voice. One never knows.