Have you travelled the Road to Hona?


United States
May 1, 2007 10:04pm CST
What was the experience like for you? The Road to Hona is a magnificient day long drive through a rainforest on Maui. Along the way are numerous opportunities to do such things as hike to 400 ft. waterfalls and the like. It is an amazing almost spiritual experience that should not be missed. My experience was almost emotional at times. It is so incredibly beautiful that speechlessness, chills and utter amazement all at once is a common occurrance. A memory to last a lifetime.
2 responses

• United States
29 Jun 07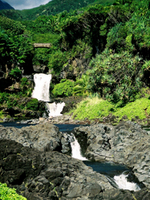 Yes, I went to Maui 2 summers in a row with my parents a while back. The first summer there we drove the 53 miles of Hana and I made them stop a lot to take pictures. We got a little scared when the locals would fly past us on the narrow road and nervously laughed at the..Caution Falling Rock signs. I made some friends so the following summer, one of them went with us to travel the Hana highway. We stopped at the black sand waterfall and explored. Also swam in the waterfall but wasn't daring enough to dive from the top of it like my Hawaiian friend. It was beautiful. I'm definitely going back to visit again...without the parents this time.;)

• United States
29 Jun 07
Sounds like you had a nice time like we did. Thanks for the response.

• United States
29 Jun 07
Thank you for bringing this discussion to my attention. It brought back some great memories and I have the sound of ocean waves in my mind. Thanks for the B.R. too.

• United States
29 Jun 07
I have never been to Maui so I've never made that trip, however I have been on the Skyline drive. It is another trip that gives you a view that seems to go on forever and shows the beauty of nature. I think that there are some places more famous and give such reactions, but even in your own back yard you have places that can bring you to the same level of experience, just go out and look for them.