hey how to make pizza?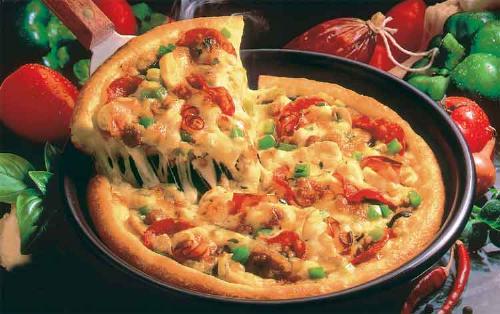 India
4 responses


• India
10 May 07
Pizza is my favorite food in the world - but i usually just order it from out or eat it at a restaurant. occasionally we make it at home, but we dont make the base ourself. In india, you readily get pizza bread so we get that, make a tomato puree for it and grate cheese onto it. I like experimenting with my toppings though - i make this amazing oriental paneer pizza. basically you shred paneer (cottage cheese) and stir fry it with onions, garlic and capsicum in a soy sauce. Put this onot the pizza and bake it..its yummy!

• New York, New York
4 May 07

To make pizza is so easy, dough, sauce and cheese. You can put what ever topping you like on it. I love pizza, I eat a lot of it, I am Italian.

• Italy
2 May 07
I think that the secret for a good pizza is the oven: my mother in law has got a very good electric oven in which pizza is just like the one you buy. You need to prepare the base using just water and flour and something to levitate the bread (if you use a piece of preparation for bread one or two days old it is the best thing they say). Then you put the base in oven, better on a piece of refractary stone, and wait it commences to make bubbles. You put it out of the oven, add tomato in pieces, mozzarella cheese and basilico, or what else you like. You put it again in the oven and wait it is ready (the thin parts without tomato and cheese could be a little burned... they are very good all the same). bye and enjoy yourself!