Ignorant breeding makes me sick!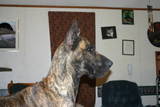 United States
May 2, 2007 1:32am CST
I've seen a lot of people talking about their dogs and cats having litters today and it really aggravates me! Everyone is busy saying "ooh congrats, how cute"...does no one else see that this is terribly wrong? Every single puppy or kitten born is one more home taken away from an animal in need. Besides which I have yet to see any of these people going about it with any kind of reasonable ethical standards! Before your pet ever reaches breeding age ask yourself what does your pet have to offer the gene pool? "He/She is just sooo cute and I wuv him/her soooo much" just won't cut it! Every dog and cat is soooo cute and they all deserve to be "wuved" soooo much! That doesn't mean that they offer anything beneficial to the gene pool!! If they don't spay/neuter them right away! They can still be "cute and wuved" till you both turn blue and not be bred! I deal in dogs, Great Danes to be exact, so I'll speak from my own experience but all of this could just as easily be taken for cats, ferrets, or any kind of animal. First you must consider if your dog honestly has something that would help improve upon the breed. Is s/he outstanding conformationally or as a working/herding/hunting dog? Who says so? Joe Schmoe down the street who wouldn't truly know jack about it or more than one person very experienced and knowledgable in the breed? If so wait until their poor bodies are mature enough! This does not mean their first heat! You should always wait until AT LEAST the second heat if not the third for some breeds! Even though they are physically able to have pups their first heat it takes a real toll on them later in life. At their first heat their own bodies are not fully developed and mature yet so putting so much physical stress and strain on the mother's body is detrimental to her health! How much can you really "wuv" your dog if you'd do this to her? Then you must have your dog tested thoroughly for genetic defects common to that breed. Hip dysplasia is a big one for many breeds. You dog may show no outward symptoms of problems for many years and only proper testing by a vet may tell you if your dog is carrying a genetic defect which may be passed down to their offspring. You can't say you love dogs if you don't care or attempt to prevent puppies from crippling defects now can you? If the tests come out right then you must thoroughly research bloodlines and critically view each candidate for mating. Are there known problems in the bloodlines? Have these two bloodlines been crossed before with poor results? Does this dog compliment your dog's strengths and offset the weaknesses? If you don't care enough to check how can you even think about breeding? You must also make sure that your dog is in sufficient breeding condition. That means being in tip top healthy condition! You must feed the best foods and have all routine vet checkups up to date. This is so important for the health of the mother and pups you just can't say you care without doing it, can you? This is all the VERY least you should do if you honestly care about animals. If you don't then I have just one thing to say to you...I sincerely wish you employment putting animals to sleep at your local shelter because that is exactly what you are doing!
5 responses

• Australia
2 May 07
Wow, this is a very rough topic. My dog has had a litter - the father was a pure breed, the mother wasn't but still, she had 1 beautiful pup which i cared for, looked after & gave away. She went to my mother who loves her dearly, takes excellent care of her & he is a wonderful dog. I understand about the lack of homes for lost, dumped & unwanted animals but here in Australia, the number of animals needing homes aren't as high as in the US. I have to also add that MOST of the dogs i have seen in my state who need a new home are not dogs that a lot of people want - working dogs mostly so they're really not suitable for people unless they have room to move around in. I just want you to know that 3 of my 4 small dogs have all come from shelters (the 4th was a pure breed give away) but i have rescued them & loved them, taken care of them & given them a good home. I know where you're coming from but you cant get grumpy with everyone that does it - if you stopped everyone from doing it, you'd have no mongrel breeds (which are the ones people seem to prefer & they don't cost half as much) & people would be stuck having to fork out BIG BUCKS for pures or they'd have to go without. Good on you for pointing out the bad people who breed anything & everything for money but not all people are like that!

• United States
2 May 07
I think what CritterKeeper is trying to say is that breeding a dog without doing any health testing is very irresponsible. Many dogs carry the gene for hip and elbow dysplasia, Progressive Retinal Atrophy, deafness, luxating patellas, etc etc. Its not just purebreds that are affected. If you are going to bring puppies into this world you have a responsibility to make sure they are healthy. Breeding dogs indiscriminately perpetuates this problem, regardless if your country has an overpopulation problem or not. Think of it as quality over quantity. Even if people DID spay and neuter all of their pets, there would still be plenty of mongrels in this world by way of stray dogs breeding with each other. In fact, most dogs in shelters in America are stray dogs, not owner surrenders. These dogs are producing hundreds of thousands of babies each year. I think that any dog that is going to be bred should be a working dog, in one way or another. All breeds of dogs were bred for a purpose, be it sheep herding, or guarding property, pulling sled or just being a companion. I think that in order to be bred, they should excel at whatever they were bred for, as well as have proven that they can work via earning titles in one area or another. Then they should have all their health testing done, and if they pass, then they should be bred.

• United States
2 May 07
I actually read this last night (technically the wee hours of the morning???) but saved replying till today. I was tired, grouchy, and wanted the chance to think over your words to be fair. Thanks, iiartisanii, you phrased things very nicely :) Gemmygirl1, accidents happen even to the best of us. A one time "oops" litter is forgivable to me though I still think it's wrong. If every dog owner had even just one "oops" litter we'd be drowning in dogs but at the same time I realize that no one's perfect. But there are way too many people out there doing this purposely or simply not doing what they need to in order to prevent it. THAT I have a real problem with and yes, I can get grumpy with everyone that does it! Believe me, I have the ability LOL I've owned and rescued many mongrels in my time and loved them all every bit as dearly as the purebreds but I am firmly against anyone bringing more into this world. I wish every single person in this world could've spent those 10+ yrs with me in rescue so they could see just how alarming this problem really is! In an ideal world everyone WOULD shell out big bucks or go without a dog! Then maybe people would not hold the lives of these animals so cheap and easily disposable! Usually the reason a responsible, ethical breeder charges so much for their dogs is BECAUSE they've put in so much time, effort, and big bucks to bring those dogs into the world in the first place. They aren't profiting from it in the least! A good breeder is extremely lucky if they even manage to break even on a litter! Everyone acts like it's a right to have a dog but it isn't. It's a responsibility, luxury, and a priviledge.

• Defiance, Ohio
12 May 07
I agree with you as well. I really feel that if an owner can not take finacial responsiblity for the animal and all its off spring (in case they are no re-homed). Than the person has no business breeding at all. The should get their pets fixed and leave the breeding up to someone who knows what they are doing. My female dog was bred for show dogs before I got her. When I recieved her. I immediatly got her fixed. I know she makes beautiful pups. But I wasn't in the business to breed or show dogs. I sure wasn't in the postion to take on anymore dogs at the time either. In case of an accidental breeding. I also think it is better for the dog when it gets fixed. For males it helps settle them down and they don't tend to mark everywhere.

• United States
3 May 07
I agree with what you are saying. People do need to stop and think before breeding their animals. There are people out there who seem to think that its alright to breed animals without testing the animals first for diseases. While it would be nice for people to act responsibally I don't see many people doing so.


• United States
2 May 07
LOL There's definitely times that I would agree with you wholeheartedly on this, judyt00! It seems to me that this is one of the things wrong in the world today, any idiot can have a child but too many of them don't have the first clue how to raise them!

• Canada
3 May 07
I agree wholeheartedly. It drives me nuts when people tell me about the 'batch' of puppies they just had and about how they're the cutest ever and everyone wants one. I always think, "Yeah? For how long?". They never have a viable reason for having a litter on the ground, either. Mitzi got out of the yard and Rex down the street caught her, or they thought it would be fun to show the kids what the miracle of life is all about. Bob Barker said it best: Help control the pet population... ...spay and neuter your pet today!