How old is too old...??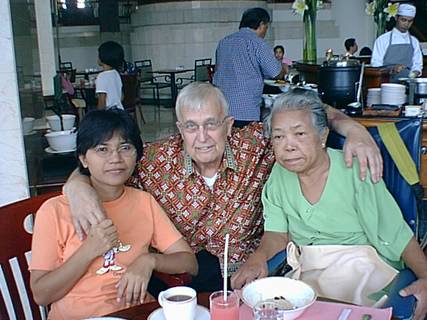 United States
May 2, 2007 6:15pm CST
Do you think there is an age that should be considered too old to start a family? Do you think it should depend on a persons age, their health or what? I have an uncle that is getting married in July. He is 67 and his bride is 39. They plan on starting a family. I think he's kind of old to be making babies...what do you think about it?
7 responses

• United States
4 May 07
My dad is going to be 69 this year and Him and my mom adopted a baby from birth. My mother is going to be 60 her next birthday. I can admit that it was hard on them and still is. I give them a break as much as I can because a child at any age can easily wear a person out. I think if the Doctor gives the ok and says everything is in working order then it should be fine to start a family at that age. They may be getting up in years but that doesn't mean they can't love and make sure they grow up right and teach them stuff..That would be like saying grandpas are to old to play with his grandkids or have them around.. I think it all has to do with the person also. My dad gets down and wrestles with my little sister and plays,badmitten,all kinds of games. So I guess it all depends if they got that extra spark of spunk. So I would say it is alright. If they are to have a baby she better get busy because the older she gets the less chance she has unless she wants to pay a fertility doctor.

• United States
5 May 07
I don't think they would go so far as to see a fertility doctor, but that's a guess. I just hope it all works out for them.

• United States
10 May 07
Well if things doesn't quite work out for them then I am sure they are tons of little lovin children waiting for a good home and for someone to love them and treat them the way they are supposed to be treated and treasure them because that is what they are treasures god has given us to love and nuture.

• Philippines
3 May 07
I think having a relationship and getting married does not start nor end in having a baby, as long as they are sincere and have pure intentions to one another, it is already a good reason for them to be with each other. As the saying goes, "Love conquers all." Be it with age, ability and health, all of us have the right "to Love" and "be Loved." I don't really think that age does matter, let us all just hope that it is love in sincerity and not love for the money..

• United States
3 May 07
Yes I guess you are right.. I don't think she is in it for the money. She is a very strict Catholic school teacher. I do worry that once she gets to really know my uncle she may have a change of heart. Not that I would blame her....he has mental health issues that I am sure she is not aware of. But if something does happen my family is ready to support her with whatever she needs.

• United States
2 May 07
I think that it's great that they are wanting to create a family. We all don't know when the end will come, so that's what I would be a little worried about, but the mom is still young, so even if her (your uncle) passes soon after the baby is born, he/she will still be taken care of long into the future.

• United States
3 May 07
Well that's true enough. I just hope things work out for them. I know this poor woman doesn't really know my uncle. They met online in a catholic chat room. She is in Indonesia and has only actually met my uncle in person once. I know she is a good person and I just hate to see her get here get pregnant and then my uncle is sick.... Oh well I'm sure it will all work out for the best in the long run...whatever will be, will be.

• United States
3 May 07
That's all one can really do is hope for the best in this situation. Both of them are grown individuals and can make their own choices. Some may not be comfortable with their decisions, but I am pretty sure it will all work out in the end.

• Canada
2 May 07
i think if their healthy, know the risks and have talked through every possibility they can think of and are at terms with everything, then no time is too late to start a family. As long as they know the pros and cons, the risks, everything then i think they are fully able to do this. I know many people have opinions on this, but this is personal choice, and if your informed when you make your decision, in the end isn't it their decision? And if they would be good parents, and make a wonderful family, then i think it's totally worth it. There's nothing wrong with it, and nothing better than having a child bless your life.

• United States
3 May 07
I guess my concern is that he's not very healthy but this believe it or not is his second girlfriend in his life...lol And the first was 40+ years ago. So I'm not sure if he's thinking it all through as he is so excited about it. I just worry about it that's all. I think it would be wonderful otherwise...and who knows he could live to be 100...lol

• Canada
3 May 07
he probably feels like his life is empty till now because he doesn't have any children. I'm sure he's thought about his health issues in union with having a child and what not, but maybe try and think about it this way... Maybe he's thinking that even if he passes when the child is young, at least the child would have a good parent, for however short a time, and the child would brighten his life for his last days. I mean, i don't know him, and i don't know what's going through his mind, but a lot of people who don't have children when they get older realize that that's a part of life that they've missed out on... I hope things go well for him, and all of you.... And i hope things get figured out soon...

• Canada
3 May 07
Hi mari, hope all is well. I personally think that if they have consulted the Doctor and they know of the risks and still want to do it then go for it. It really is their decision. However I was personally told by a specialist that the "magical number" to stop as the risks seriously go up is once the woman hits 35. I turn 32 in August so I better get on it lol. The hubby and I are thinking of having another one. Our daughter is 11 months, and we want to time it so that she is either 2 or a little over 2 by the time the new baby comes. Then that way she is one step ahead of the new baby. Don't want them too close together.

• United States
2 May 07
Well of course it is the individual's decision ultimately. I worry most about bringing a child into the world and then not being there for the child. Lets pretend they have a little boy. Can your uncle get out in the yard and play catch with the boy in a few years? Pass a football back and forth? Can he adequately keep up with the shenanigans of a teenager or is he going to be 'tired' and unable? Assuming they have a child in the first year of marriage, the man will be 85 when the child is 18 years old and graduating high school! This is the part that conerns me. Now, there are some 67 year olds that can run circles around me! And I know (before I am blasted by other members..) that age does not a good parent make. I don't know...it just concerns me!

• United States
2 May 07
Well I'm with you...I think it's not too good an idea in his case especially. He has not been in the best of health the past year. Not three months ago he couldn't even get around on his own because of his back. Before that he was in the hospital 4 times because his blood count kept going way too low and they never found a real reason for it. Now they want to remove his spleen so it doesn't happen again...I think he's crazy, but I wouldn't dare share my opinion with him...lol He still sees me as a child at 46...what do I know...lol

• Australia
3 May 07
It depends on the individuals and the decisions that they make , but really. I think he is a bit too old, its not like he would be able to run around playing with the child all day. Or sadly be able to watch the child grow and have their own family. But each to their own and long as the child is loved and look after properly.

• United States
3 May 07
That's how I see it. I would feel bad for the child growing up possibly without a dad...but hopefully it will all work out for them.