I just want to cry!! I need to vent.

Canada
May 2, 2007 7:25pm CST
I am having such a bad week.My daughter has been late for school almost everyday this week, my dog chewed my only pair of sneakers and he has been really hyper and keeps nipping at my daughter and I and I can't get him to settle down. I play ball with him and take him for walks but he just won't listen to me.I had to go and get stitches monday night on my right hand, the one I do everything with. So I got a dish brush today to do my dishes, it has already taken me like 3 hours and i still have a few more left. My boyfriend is out of town so I have no one to help me out and now my daughter is gonna act up again. She did this to me 2 weeks ago when my bf went out of town. She just won't listen when i tell her to come in she just says no i'm gonna do what i want.She keeps bringing all her snacks outside for her and her friends and they are for her lunch and I can't afford to feed the whole neighbourhood. She tells her friends to come in even when I say no friends in. She just walks all over me. When I first hurt my hand she was really good about it now she won't really help me with anything.Everything i ask her to do she just says no. I go outside and get her and she just runs right back out the door. I actually called the police on her a few weeks ago because she kept taking off on me, she is only 8 and they wouldn't come out and have a talk to her.(I normally wouldn't do that but she just wouldn't listen nd I didn't want anything to happen to her)The police said because she was only in the park in our complex and not missing they won't come out. So I am just at the end this week. I swear I am gonna have a break down. well sorry to tell you all this, I just needed to vent and get this out.
11 responses

• Etowah, Tennessee
3 May 07
Put the dog in the bathroom! Or somewhere else that he will be confined. He needs to be punished for his behavior too! Bring your daughter in the house. If she goes out bring her back in. Tell her you are at the end of your rope and that if she can not listen, you will have to punish her. You do not have to give a punishment that you know you will not follow through with. Just tell her that she will be punished. Then if she does not listen still, fork out some punishment that you know you have control over. Perhaps no TV or no allowance, something you CAN stop with out her getting it anyway. When they come inside, just tell them NO! Back outside. Then keep on them until they go out. I am sure they do not want to cause trouble and if they see you mean business, they will listen to you not her. Also tell her if she takes her snacks out side to all her friends, she will not have them for school. Make sure she understand that means she will not get a snack. Then if she does take them out to share, let her go a day or two without her snack. Chances are, she will learn this lesson after one or two days of no snack because little susie, or Johnny ate them for those days. Or you could hide them all in your room or somewhere that she can not get into them. Are you taking something for pain? An ibuprofin goes a long way to stop pain and swelling. The pain is surely making the stress even worse, as is your BF being gone and not there to help. Can you call him later to just hear his voice and tell him you love him? Not to vent mind you, do that here, by all means, but just a little love time will help you feel better. You must stop her now. You have got to be firm!! Remember this: Most kids prefer boundraries. They might protest, and defy them, but really deep down it says that you care enough to care! If you do not get ahold of her now, What will you do when she is 16 and staying out all night running around with older boys?! Please get a hold of this for your sake as well as hers. I know first hand as I use to let mine have the upper hand and hated punishing her. When I got with my now BF I saw what no disapline does to kids. His son steals from his family and friends. And because he gets away with it, he continues. And because he gets away with it, his little sister also steals, and because she gets away with little or no punishment, she continues. She is 15, and her mother found a letter about what she has been doing with the boys OMG! you would be imbarrassed at this stuff! She is also calling my 23 year old son to get him to come over after her dad leaves. I told her father, but he will not do anything! I would have went home, took her phone and whopped her tail!! She would also be grounded for at least a month, probably longer depending on how she acted when I got there! I hope you feel a little better after getting it down on ...umm screen? LOL I am here if you need to talk to some one, just let me know. I am studying on-line and just checking in here for pm's and such while the pages load. I had reason to go to your profile, and saw this . (((((((((((((((You & your daughter))))))))))))))) That has got to be the biggest hug I have ever sent to someone, I hope it helps a little. BTW I lost my firefox and do not have spell check. I am an awful typist so please forgive any typos!

• Canada
3 May 07
Thank you so much for all the advice. It really does help and I appreciate you :) I have been taking advil for the pain but today it doesn't hurt at all I still can't bend it all the way but it's comming along. On the way to school this morning I warned her, that if you mouth off to me once tonight or don't listen you will be inside for the rest of the night whether I have to hold her door shut or whatever I have to do, she is not getting away with this anymore. See we have a playground in our complex right outside of my gate and thats where she plays so we just leave the gate and back door open and I can see her at all times and when she can't go outside she gets really upset, so that will be her punishment. She has promised she will behave and also I told her she is cleaning her room and doing her homework before she's allowd out, those were the rules anyways but she hasen't been listening.So no matter what it takes tonight she will be listening to me. As for Meeko, our dog if he starts tonight I am gonna confine him to the kitchen until he settles down. He is fine now, he is playing with his toys but thats because it's only me here right now and when Nakara gets home it's like he see's her as a play toy. So anyways I'll let you know what happens and thank you again. And your typing is just fine :)

• Canada
3 May 07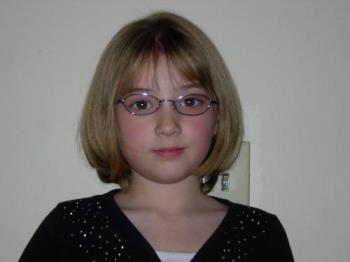 This is my daughter, The pic was taken a few months back. She has two shirts that suit her well, one says, I never said I was a princess but if the crown fits. And the other says I am not as innocent as I look..LOL, I don't know why I thought of that but it's funny and true..

• Etowah, Tennessee
4 May 07
Meeko, our dog if he starts tonight I am gonna confine him to the kitchen until he settles down. He is fine now, he is playing with his toys but thats because it's only me here right now and when Nakara is a very beautiful name for a very beautiful girl. You can do it. i can imagine the looks she can give to make you feel guilty. My daughter still does it! Good luck on the cleaning her room thing. I gave up. As long as She gets the dishes and trash out of there, she can live in it!LOL


•
3 May 07
Hi amydawn11, you need to get tough, tell her straight there are going to be a lot of changes around the house, then tell her the new rules, and make sure you punish her if she disobeys them, if she is like this at 8 then she will get a lot worse as she gets older, just think if something bad happens to her because you let her run out of the house, you would never forgive yourself! get tough and be firm, you must remind her that you are the adult and she is the child!! same with the dog really, you have got to show that you are the boss.

• Canada
3 May 07
I know and that has always been the biggest issue with both Nakara and the dog. They don't take me serious and I do need to get firm. So I am gonna try my best today. Also my biggest fear is what she will be like when she is a teenager, I constantly think about it and I know I need to get control of her now. I do have a lady comming in once a week for an hour or so to help me with her behaviour, I believe she comes early next week and she is bringing me a chart and and a timmer and she is gonna sit ouside and inside with Nakara and I so that she can see how she interacts with me and also with her friends so that she has a better idea on how to help out. So with hard work and consistancy I think things will begin to get better at some point. I am the problem, I am the one who needs to learn all of this and stop giving into her and until I change she is not going to change the way she treats me. Now that I think about it it's not just my daughter and my dog, it's so many people in my life that walk all over me and to realize that it's because I have always allowd them to.

•
3 May 07
That's it, get tough with them all and show them that your not their doormat, I wish you well amydawn11!

• United States
3 May 07
I know how you feel. I have a disabled two year old that functions on the level of a 2/3 month old, he's total care. He eats every 3 hours by bottle still, is round the clock medicated and I have to complete certain therapies at certain times. I have a 5 yr. old daughter who thinks she's the boss and doesn't listen to anything I say. On top of that I have normal daily responsibilities, housework, laundry, etc. and on top of all of this, I'm going to school. My husband and I split up because he was lacking in the areas of faithfulness, responsibility and respect. So needless to say I'm doing this on my own. You kinda feel like how much worse could it be, but never think that because I can promise you it can be much worse. So go ahead and have that much needed nervous breakdown that you deserve so much. It'll be okay. You can cry on my shoulder anytime. I hope things get better for you. Have a blessed day:)

• Canada
3 May 07
Wow, you are a strong person. That is a lot to be have going on all at once. That just reminded me of when it was just my daughter and I and I was going to school and working. She was about 2 at the time. I had just left a realtionship and was chatting with someone and I remember them saying wow, I couldn't imagine having all that going on and being a single parent at the same time. I had never really thought about it before. My response was I don't know any different, it's hard at times but this is life to me, this is my normal, It's never been any other way so I guess I had never considered it hard in a sense. We all go through hard times but I had never looked at my life that way.You just do what you have to do, thats all there is to it. I have always though I was strong I just guess at some points you get down and feel like everything is falling down around you but in the end I always get right back up. We have no choice, I don't know if you feel this way but I feel that giving up is just not in option. I am gonna cry, get over it and just work harder. Thank you so much for being a friend and if you need to cry or talk I will listen :)

• United States
4 May 07
You know i feel the same way when people say how are you doing this. This is the way I know life and probably wouldn't know what to do if I didn't have these responsibilities. Thanks for listening, and I'll always be here for you to vent as well. You're a good friend. Have a wonderful day:)

• United States
3 May 07
My heart aches for you, hon. I hope you feel a little better after venting. We all need a place we can go for that. Reading over your comments to others, I think you know that the problem is you..... you have to be more firm, say what you mean and mean what you say. Then and only then will your daughter know that she has to listen to you and do what you say. You are lucky that she is only 8. If you don't get a handle on this before she is a teenager who knows what might happen. You are lucky to have the behavioural management place at you access. Use everything they offer and don't worry about being a friend to your daughter right now. You will have a better friendship with her when she is an adult if you spend the time now to bring her up right. Bless you and her as well. You will get through this.

• Canada
3 May 07
Thank you very much. I can say today has been a much better day. She has been doing really good so I am pleased with that. I am very thankful to be having that lady come in because i know so many other people do not have any help. I will post a few weeks down the road to say how everything is going with that :)

• United States
3 May 07
Sometimes people feel better when they tell the problems to somebody . Mylot is a good way to do so if u dont have anyone to say your things. Dont worry everything will be fine. God bless u.

• Canada
3 May 07
Thank you :) That is one of the reasons I really like it here, so many people are there to give you advice and help you when you need it.

• United States
3 May 07
Hi amydawn Im a good listener. Sometimes its good to get that all out. And I dont blame you one bit. You need some help right now. Do you have any family members that could stop by and give you a hand? Or maybe some friends? I feel bad for you. Maybe you should sit your daughter down and just have a talk with her you dont have to yell just talk. I really hope you get some help and I hope your feeling better. Take care

• Canada
3 May 07
Thank you very much. I am feeling better about the situation today. She just got home from school and is upstairs cleaning her room like I asked her to so thats a good sign and then I am going to help her with her homework. So all is good today so far :)

• Malaysia
3 May 07
wow.. i don't know what you're going through.. but i can say good days will come after bad days.. today you have bad days.. do believe someday.. the days will turn to be good.... i'm having bad days too.. but i'm losing more money instead of earning money.. and i'm really sad.. because i've already lose almost 300 - 500 bucks on internet investment.. and that's not even a small amount in my country.. i think i'm so useless.. i'm not reducing my debt.. i', increasing it.. shame of myself.. i decided to bear the whole debt on my own.. haha :) .. hopefully i can settle it..

• Canada
3 May 07
Hey we all makes mistakes, the thing now is to manke sure you learn something from it. Your right we all have bad days and they do get better, Just got to keep your head up.

• United States
3 May 07
Hang on. Hang in. Take the time you need to center yourself, and then go be a Mom. This kid is 8, and because you are trying to negotiate her love and affection, she is not taking you seriously. I know it breaks your heart, but your job is not to be her friend. She might hate you for a while (probably a week, two max,) but when you come through the tunnel you just might have made changes that will change the course of both of your lives. God bless you both. Have faith in Him and yourself. Take a moment. Go into your closet and talk to Him. Then, let God and let go.

• Canada
3 May 07
Thank you :) I do feel better about it today and I am ready to handle her tonight. I have already set down the rules this morning so that when she comes home from school she knows what is going to happen.


• Canada
3 May 07
I do feel much better today, I feel like I am ready to take it all on. Thanks

• Australia
3 May 07
Hello,amydawn,soory to hear that.Every people may have their hard times throughout their lives, I hope you can work hard and get over them,no worry, you will be fine later.

• United States
3 May 07
I'm so sorry. Sometimes I feel like this and I vent also. It is good to write down how you feel and get it off of your chest. I hope things get brighter for you.