Horror teacher!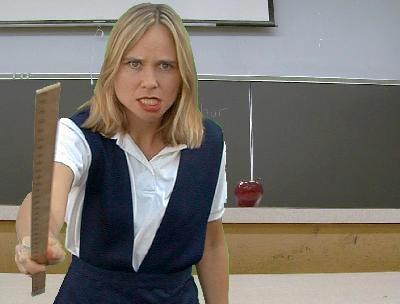 Philippines
May 3, 2007 12:59pm CST
What would you do if your teacher in a major subject doesnt like you and always get irritated by you with no reason at all? Would you just drop the subject and shift to other course? Would you get advice?...from whom and why? Have you had a teacher with bad attitude? How do you deal with it?
4 responses

• Philippines
4 May 07
I agree with the first poster. If you're in high school, there's pretty much nothing you can do but deal with it. Show the teacher that you are intelligent. Ace exams and stuff. But it sounds like you're in college. In my school, if it's really early in the semester, like 2-3 weeks into it, we have the option to revise our load, get another teacher (we just have to be really creative with the excuse we give so that they'll approve it). But if it's too late, and you think that there's no point in continuing that subject because you'd just fail in the end even though you have good marks, then, just drop it.

• India
3 May 07
Hi noor if i came across like this teacher i try to impress her with my work as one had a soft cornere i tries to touch that one with my hard work.If it didn't work then i give dump ear to that teacher i go ahead with my work. And one think i can do is i will complaint to head of the school with some proof such that they have to belive me.

• United States
3 May 07
I have had teachers with bad attitude my entire life... you know what, I don't even pay them any attention. I've gotten into arguments with them over work, teaching methods, etc. I hate, for instance, teachers who give pop quizzes that are so hard and have nothing to relate to the material so that they can "catch" you off-guard and try to fail you. You're supposed to be a teacher, for Goodness' sakes. I wouldn't do anything different. I would do all my work, get high marks, stay among the top of the class, and rub it in their face all term that there is nothing they can do. They can't punish me if I am not doing anything wrong, they can't flunk me because I am doing well in the class... I turn it on them, force them to be a teacher to everyone. It's highly unethical and wrong for a teacher to not like or like students for any reason... it happens, but I think it's wrong. I could care less if I am the favorite student, it's still wrong.

• United States
3 May 07
Everyone has had a teacher with a bad attitude and how you deal with the situation depends on where you are in your education. If you're in high school, take it to your guidance counselor and see if you can't be switched out the of class. If not, then deal with it. Go for some extra help and show the teacher that you really are serious about the class. If you are a college student, then you always have the option to drop the course if it's not too late in the semester, but sooner or later you have to learn to deal with people who don't like you whether it's in school or at work.