how to enhance my language skiils...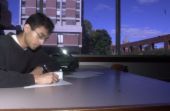 Philippines
May 4, 2007 2:32am CST
i'm taking up education and my major is english. although i'm doing well with my chosen field, i want to improve more my repetoire of english language. what can you suggest/s on how i can improve more? please share some of your notions and ideas. thank you.
7 responses

• Australia
4 May 07
reading and writing is definitely the best thing i believe. You should read some english literature thesis or linguistics books and when you are reading, use the dictionary to find the meaning of every word you don't know the meaning of - that is what i do. When you are writing - try to take out the thesaurus - or goto dictionary.com and use the thesaurus and use some different words to those that you usually use - that way you can have a bit of variety in your writings. I believe that if you are already doing well then would already be doing most of these things when you are writing your reports and reading notes and books when studying.

• Philippines
14 May 07
aside from reading, what can you suggest in order to enhance my language skills?

• United States
4 May 07
Read. Reading will improve your understanding of the language and increase your vocabulary the most. I would suggest reading older authors who in general seemed to have a better command of the English language. People Like Mark Twain, Robert A. Heinlein and countless others.

• Philippines
14 May 07
i agree that reading is one way to enhance your vocabulary. aside from reading, what can you suggest

• Philippines
5 May 07
Reading always help. Also conversing with other people in English. My spanish professor also gave me this smart piece of advise when learning language: Try to use it on your internal dialogue with yourself. Or when you're imagining situations, think of yourself and others speaking on the English language. It is a mental practice of your knowledge and helps with the proficiency.

• Philippines
14 May 07
almost all of you suggest that reading is one way to enhance my language proficiency. aside from what you've mentioned, what are the other things/ideas you can give/suggest?

• Philippines
4 May 07
I enhance my English skills by maintaining and reading people's blog. In this way, I can enjoy at the same time learn from it. I also keep an open tab of online dictionary for the words I can't understand. Well, it's effective and you can develop your own writing style.

• Philippines
14 May 07
i'll try what you have suggest. thank you.

• China
4 May 07
You'd better read others' discussion carefully and post as many discussions as you can. You can know the rules of written English from others, if you read more and more discussions. Practice is also important, so you have to write more and more discussions. If you have a doubt, you can start a discussion ,then you can correct your mistakes. This is only my personal suggestions, you can have a try.I feel it can give you some help. Good luck.

• Philippines
14 May 07
yeah you're right. but aside from those things, what can you suggest?

• United States
4 May 07
I agree that reading classic literature is a good way to improve your english.If you can try to attend classic plays too. Some of the Tennyson plays are excellent. I love Shakesperean plays, but the language used in them tends to be outdated. Others to consider might be Cat on a Hot Tin Roof, You Can't Take it With You, All Lights Off, etc. In fact, if there is a community theatre in the area or something similar thta does plays in english you might see about acting in some of the plays or helping out with them in some way. Learning how to say the lines in a play can sometimes lead to a better understanding of the language. Listen to music. I would say listen to classical music, but there just isn't that much that's been done in english. I think that lyrical songs and folk music might be the best thing to listen to and learn for how the language is used. It can also be interesting to find that some songs go well towards helping to remember certain poems or have the same type of meter/rythym. There is a song called Darktown (not politically correct, but it was written around the 1950's I believe) that has a rythym that goes very well towards helping to remember the introduction to Chaucer's Canterbury Tales and is in fact very similar to the way the language was spoken at the time he was alive.I can't remember the poem that goes with Little Duece Coupe...I'll have to check now.If you ever read Dr. Suess you might like to read through Shakespear right afterwards. They both use iambic pentameter. I have my own ideas of what some of the classics are. hehe.I seem to recall that most of Ms. Brownings poems can be read to Mary Had a Little Lamb, but I could be misremembering the song.If you can, speak with people who have a good grasp of the english language as much as possible or maybe even find a penpal or someone to chat with online (if you can talk online even better). You might also try putting up a few written pieces on a site like gather.com to see what others might have to say and let them critique it a little. I'm always a little nervous about doing stuff like that though so it depends on how willing you are to hear the (possible) bad critism of others.

• Philippines
14 May 07
reading, watching plays and those things you have mentioned are good ways to enhance my language proficiency..but aside from these things,what can you suggest?

• India
4 May 07
hi what i will suggest you for improvement in ur language wether its written part or spoken . you must read good books nad newspapers. self talk is also a good idea to improve you didn't find anyone elese to talk with as per as written english is concern you will definately improve upon in mylot

• Philippines
14 May 07
so you're pointing about speaking as a good way to enhance your language...i think you're right..it's one way to improve my language skills...what other ideas you can suggest?