The beauty queens.. who can really stand them?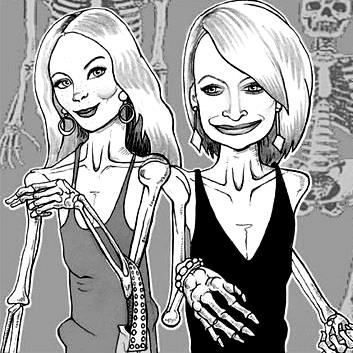 United States
May 4, 2007 2:36am CST
I really, really dislike the beauty queens. I think they are nasty and cruel. I know a race is a race, but they do things so out of the realm of competitive. Why pay Danny & Oswald to yield Danielle & Eric when they were already so far behind? I have to say, right now anyone can win as long as it's not them, and I'd be happy. I don't think anyone would be happy to see them win at the finish line. You know how everyone stands around & claps? I think if they were to win, the people should stand there in dead silence. They have alienated just about everyone. They have backstabbed just about everyone. I just really really hope they mess up big time in the finale. I would like to see Mirna & Charla win just because I think it would be a good example of people overcoming their limitations. And while they do fight, etc they have never purposely been cruel to anyone nor have they tried to backstab anyone. Even Danny & Oswald said they should win. Danielle and Eric try hard, and I do try to like them, I just don't care one way or the other with those 2. Just NOT the blondies. I think I would be very disappointed if they were to win. What do you think? Do you like the beauty queens? Or should they head back to Pageant Land?
5 responses

• Philippines
26 May 07
a race is a race, and you're competing to win. and the amazing race is not just a challenge for physical prowess, but also intellectual and strategies. the queens know their way around and were just wise to use their skills. anyway the yield is just their proposal, as in any of their strategies and proposals - and one case, it was danny and oswald who, without coersion, made the final decision to use it against eric and danielle, so why take it against them? danny and oswald must have their own motive of doing so, but they're not judged as cruelly, aren't they? i like the blondes. they're pleasant, they smile a lot, they're very courteous, they enjoy the game, they compete, yes, they're so competitive, but understandably under the circumstance, it's a race!

• United States
26 May 07
Pleasant and courteous ? We definitely were watching different shows. The were constantly nasty to the other teams and talked about them all the time. They smiled while doing cruel things and they smiled was when they were trying to use their "beauty" to get something done. I like competitive teams, have no problem with that. They, however got on my nerves. Couldn't even stand to look at them.

• Philippines
27 May 07
yes probably, we have different perceptions. i still like the queens though, i enjoy watching them play the game and enjoying themselves. they get elated at their winnings, they cry and accept their defeats. they're pretty - understandably people punish them for being so - but they're also human. their friendship was tested, and in the end they remained a team, they put importance to their friendship, and that's commendable. the intelligence, skill, strategies, charm that they employed - everything else is just part of the game. because afterall, it's a game! i don't hate the other teams. i even say it's fair for eric and danielle to win. it's all fair for any team to win that race, considering the hard work put in it. i felt sorry that the queens lost since they, like everybody else would want the prize, but somebody has to win and the blondes has remained level-headed with their huge defeat and endure it including the 'hate' campaign thrown towards them. :)

• United States
27 May 07
I guess I can understand your opinion. I never thought they were that pretty anyway. AT least not Miss America pretty. I don't think we saw them in the same light. I think they created their own bed of distrust and dishonesty and almost everyone that "hated" them, it was well deserved. I think that real people, nice people, down to earth people, that really need it deserve to win. Uchenna and Joyce won, that was awesome. They were and are great people.


• United States
1 Jun 07
I've never seen the show you are talking about but the regular beauty pagent shows i donot watch.Soundsl like maybe its a good thang.LOL

• United States
1 Jun 07
It's a race around the world for money and prizes. The winning team gets $1 million I think. This one team was fromer beauty pageant girls. They were dubbed "the beauty queens" by the other racers. And boy were they nasty !!

• United States
27 May 07
Teah they really do not ring my bell either Mish! I guess part of it is that they do not play nice. They will take the nasty road time and time again. I am so glad that they didnt win. It seems like I am always with the under dog. I think the people who won should have won! I will not be sad if I dont ever see them again!

• United States
27 May 07
LOL, I'm right there with you. Call me a sucker, but I think you can still win and play in a competition and maintain some sort of dignity in the process.


• United States
6 May 07
seeing as they are the "under dogs" it would be nice

• Philippines
4 May 07
Oh monkey, I don't know what you are talking about here. Is this Beauty Queens a soap opera or a show or are you talking about beauty pageant in general. You know, the one like Miss Universe. I'm lost, LOL!

• United States
4 May 07
you're so funny bunny.. hehe. No it's a show called The Amazing Race and the "beauty queens" are a team of two absolutely horrid women trying to win $1 million dollars. They do not deserve to win because they are mean and nasty and think being pretty is enough in life. And to tell you the truth, they're not even that pretty !!