Which One Is Your Favorite?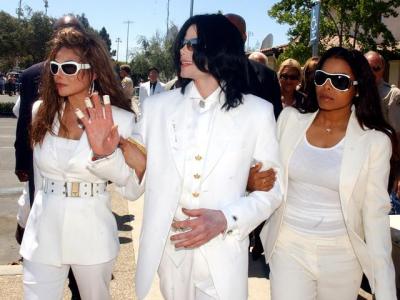 Turkmenistan
May 4, 2007 2:47am CST
I have always been a fan of the Jacksons, but let's be honest, Michael, Janet, and Latoya are the three most famous and they bring in all the money and publicity. So I thought I would take a poll to ask which one is your favorite and why? Now, Janet being the most normal of the three and incidently the baby of the clan, as far as most people know, has really come into her own in the last 20 or so years. Who knew, that one day she would command so much attention. Especially with her clothes half off. Then there is Latoya, the middle sister and the only Jackson with no real talent. Well she seems to like taking her clothes off also. We all remember the "Playboy incident." Okay, so I am just happy that she divorced that creep, took back the lies and reconciled with her family. Then there is Michael, and we all know more than we ever wanted to know about him, enough said. Actually I don't think I have a favorite anymore.
4 responses

• Canada
4 May 07
I kinda like Samuel L Jackson. Maybe he's an uncle? Nah, he isn't like them. He's normal. But why wouldn't he change his last name.... he wouldn't want to be known as their uncle or something... i don't know.. now i'm kinda confused.....let's see now..

• United States
4 May 07
I use to like to listen to Michael Jackson. I have bought his CD's and watched his videos. But with all the wierd things he has done he ruined his career. Now with the alligations of child molestation I do not think he will every get back on track again. Now Janet with her soon to be hubby has found a way to make it in this world to look and act normal. She seems to be doing well with her man. Latoya I have not heard anything of her in a long time. I do not know what has happend to her. The older Jacksons arn't they singing somewhere like Branson? I think they are singing or preforming somewhere. I maybe wrong. Does anyone know?

• Turkmenistan
5 May 07
Like I said, I use to be a fan of all of them, but last night, when I started this post, I really had a chance to think about it and I just felt very uneasy. It is hard to admit that I like any of them anymore. Now, Marlon is the only one that I see, who has gotten away from the family and stayed away. I did not even see him at the trial for Michael. All the other members eventually showed up, but he never did. I am not saying that I am glad that he is staying away from his family, I just hope that it is for a good reason, like wanting his children to have a normal life, away from all the weirdness. He is also the only sibling still married I believe. I am not sure about Jackie. I don't know what he reat of them are up to now either.

• Palatka, Florida
4 May 07
I'm not sure either. In the 80's I admit I liked Michael's music but who didn't and Janet has had some good songs and has played in a few good movies. Laytoya I'm not all sure about. Micheal let me down with all of the news and going to court. Janet is ok but not what she once was.